WEDNESDAY Recap: (S01E04) Woe What a Night
12 days ago
Geek Girl Authority
DISCLAIMER: This recap of the Wednesday episode "Woe What a Night" contains spoilers. Proceed at your peril, normies. 
Welcome back, normies and outcasts! Episode four brings about new developments on the murder investigation front while paying homage to Carrie and seriously wounding poor Eugene. I'm still convinced Larissa Weems is somehow to blame. I think she's a shapeshifter. She transformed into Rowan the day after his murder to throw the sheriff off her scent. 
"Woe What a Night" lays the teeny-bopper drama on thick. While the "teen love triangle angst" angle has been done to death, particularly in genre media, I can overlook it for the show's more favorable aspects. The mystery is intriguing, and the enigmatic characters immerse us in this world alongside our titular protagonist. All in all, this outing is the series' strongest thus far, especially with that exceptionally clever opening scene. 
Ready to delve into "Woe What a Night"? Let's get to it. 
RELATED: Wednesday Recap: (S01E03) Friend or Woe
We open with Wednesday (Jenna Ortega) and Thing making a pitstop at the Jericho coroner's office. Our Goth gal hopes to further examine the murder victims' bodies for potential case-breaking clues. She records her findings as she closely inspects the homeless man from the previous episode. Thing makes copies of vital documents regarding the Hyde monster case. Suddenly, Sheriff Galpin (Jamie McShane) and Dr. Anwar (Nitin Ganatra) waltz into the office, so Wednesday hides.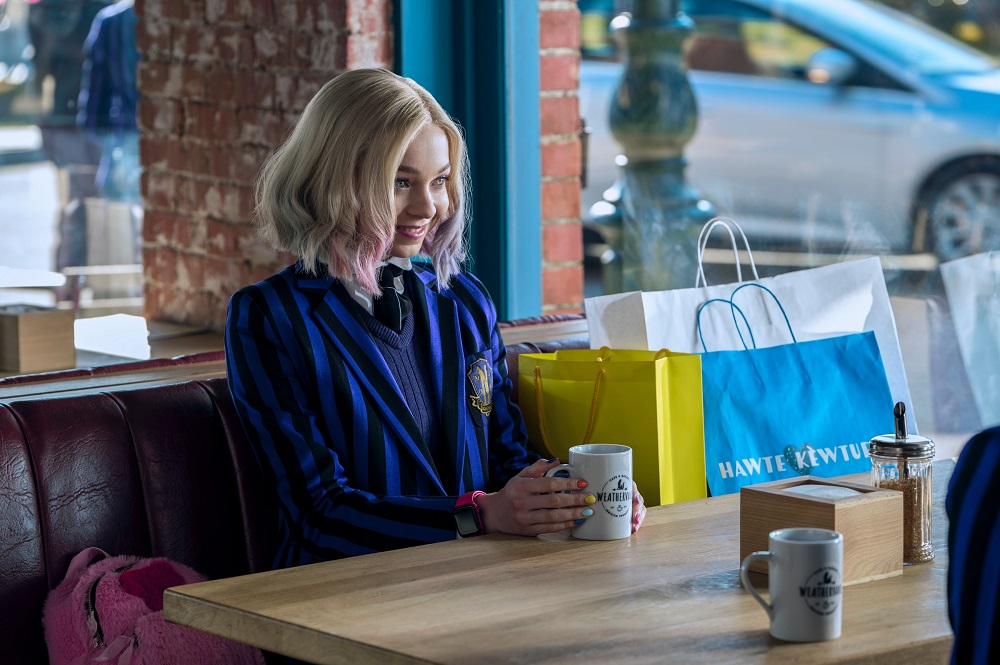 The pair discuss the case, and Dr. Anwar shows Galpin the severed foot from the homeless man. It's missing two toes, courtesy of the murderer. Our heroine herself concluded that said murderer is surgically removing body parts. After the sheriff departs, the doctor notices one of the doors on the mortuary shelf is cracked open. He finds Wednesday within, mistaking her for a corpse. He even touches her face and remarks how rigor mortis has set in already.
Once he leaves, our girl asks Thing to let her stay on the shelf longer. She's finally getting comfortable! I love this scene. It encapsulates Wednesday Addams to a tee. Later, she has a murder board in place in her quarters, much to Enid's (Emma Myers) irritation. While Wednesday discusses the gory details of the monster case, Enid faints. Time to fetch the smelling salts (again). 
RELATED: Wednesday Recap: (S01E02) Woe Is the Loneliest Number
Next, in Marilyn Thornhill's (Christina Ricci) class, everyone's abuzz about the upcoming Rave'N dance. Xavier (Percy Hynes White) tells our protagonist about it, but she'd rather stick needles in her eyes. Wednesday goes snooping in Xavier's mysterious art studio. She finds a plethora of sketches featuring the likeness of the Hyde monster. Uh-oh. She grabs a few of Xavier's drawings and flees, only to find the artist himself standing outside. He muses whether she might ask him to the Rave'N shindig. 
To conceal her breaking into his studio, our titular heroine begrudgingly asks Xavier to accompany her to the dance. He accepts. Boy's got it bad. Enid is over the moon when she learns about Wednesday's change of heart and takes her roomie to the local dress shop. However, she backs out on Enid, forgoing the dress shopping for more productive use of her time.
She runs into Dr. Valerie Kinbott (Riki Lindhome) outside the antique shop. Wednesday attempts to keep mum outside of their session hours. She eyes an ethereal, darkly dramatic dress in the shop's window display. After her encounter with her therapist, Wednesday visits the sheriff with Xavier's drawings in tow. Galpin holds one sketch next to the photo he found on the homeless man's camera roll. It's a match! The sheriff reluctantly agrees to work with our sleuth if she brings substantial evidence to the table. She does suspect Xavier, though. After all, he can bring artwork to life. 
RELATED: Wednesday Series Premiere Recap: (S01E01) Wednesday's Child Is Full of Woe
Meanwhile, Enid runs into Lucas (Iman Marson) at the coffee shop. Lucas is one of the bullies and the mayor's son. Lucas asks Enid out to the Rave'N, claiming he can scratch her back if she scratches his. Methinks stoking the fires of envy from others is behind this dance pairing. Wednesday runs into Tyler (Hunter Doohan), who point-blank expresses romantic interest in her. He wants to attend the dance with her. However, Wednesday claims she must prioritize, leaving a hurt Tyler in the dust. There's nothing wrong with setting healthy boundaries. 
Then, Eugene (Moosa Mostafa) and Wednesday set up shop in the hive and brainstorm their next steps regarding the murder case. Eugene asks her to give Enid a honey jar to win the latter's affection. He's got a crush on Enid. The pair explore a cave from one of Xavier's sketches. There, they find a claw lodged in the cave wall. Wednesday returns to Xavier's art studio to find a piece of evidence with DNA that'll match the claw. She puts a bloody rag in a bag. 
Suddenly, Xavier catches her red-handed. He realizes she had ulterior motives for asking him to the dance. Wednesday inquires if he's the monster. Xavier explains that this creature has been haunting his dreams for a while, so he sketched its likeness on paper. Unfortunately, the beast came to life, and its claws scratched Xavier's neck. The rag was utilized to stanch the bleeding. Mystery solved! Enraged, Xavier kicks Wednesday out. 
RELATED: Geek Girl Authority Crush of the Week: Wednesday Addams 
Later, our Goth gal drops the claw and bloody rag on the sheriff's desk. She orders him to run tests on them. Wednesday changes her wording when referencing the rag — she now doesn't suspect Xavier of being the Hyde monster. Speaking of, Bianca (Joy Sunday) asks Xavier to the Rave'N after learning he's dateless. Thing discreetly types a note on Wednesday's typewriter and drops it off at the coffee shop for Tyler to read. Is he playing matchmaker? 
It's dance time! Principal Larissa Weems (Gwendoline Christie) and Marilyn are among the chaperones for the festivities. Xavier and Bianca wander in, looking like a million bucks. Enid also attends with Lucas. Wednesday plans to do cave research with Eugene, but Tyler knocks on her door with a corsage. Thing crafted a tender apology for Tyler, luring him to the dance as Wednesday. Oh, and he got that gorgeous black gown from the antique shop with his five-finger discount. Initially, our heroine is annoyed with Thing for acting without her knowledge. He destroyed her mystique!
However, all is forgiven in a jiffy when she dons the dress. Tyler is smitten. Eugene is taken aback to find Wednesday dressed to the nines. She reassures him that they'll resume their investigation the following day. She urges him not to go into the woods alone. He defies her order and embarks on a solo quest. 
RELATED: TV Review: Blockbuster Season 1
Enid runs into Ajax (Georgie Farmer) on the dance floor. It's abundantly clear that Enid and Lucas are trying to make ex-significant others/crushes/lovers jealous. Bianca asks Xavier not to mention Wednesday Addams while they're together after catching the latter in mope mode. Xavier finds Wednesday getting drinks for her and Tyler. He finally tells her about the lingering beef between him and the sheriff's son. Lucas realizes he shares a lot of common interests with Enid. New couple alert, anyone? 
Meanwhile, Wednesday informs Tyler about her conversation with Xavier. We learn that Tyler used to hang out with the bullies. They destroyed Xavier's mural and assaulted him during last year's Outreach Day. Tyler explains he's not that person anymore. Our protagonist doesn't fault him for it, claiming she would've gone further. Of course she would've. Lucas texts his friends, who plan on exacting revenge against the outcasts for the burning of the Joseph Crackstone statue. 
Next, Wednesday contracts the Dancing Fever. She puts her moves on display for the dance floor to witness. This scene feels surprisingly on-brand for this character. Xavier asks Bianca to remove her amulet and make him forget about the Addams girl. Bianca reminds him why they broke up in the first place — he accused her of manipulating him with her siren song. Bianca storms out. Good for you, girl. Leave the whiny emo boy be. 
RELATED: Movie Review: Enola Holmes 2
Lucas intercepts his friends once they arrive, attempting to dissuade them from ruining the Rave'N. Wednesday and Bianca chat about identity and not caring what others think. Bianca envies our Goth gal for her self-confidence. Wednesday admits she wishes she cared more. Eugene returns to the cave site and observes while someone sets it on fire. Uh-oh. Suddenly, the bullies turn on the sprinklers at the dance. We see copious amounts of red liquid squirt from them. Wednesday is disappointed that it's not real pig's blood. Larissa screams, à la Carrie. 
Everyone screams and slips on the red paint in their haste to leave. Wednesday has a vision featuring a terrified Eugene. She makes a break for the woods to find him. Enid confronts Lucas after discovering him with the other bullies. She feels used and that their bonding wasn't genuine. Lucas's friends poke fun at her while pressuring her to "wolf out." Ajax comes to her rescue. Ajax explains why he stood her up the other night. The pair share their first kiss while covered in crimson paint. 
Later, Eugene tries to escape the Hyde monster after hearing its snarls. Wednesday calls out for him, hot on his trail. Unfortunately, the creature attacks Eugene before our heroine can reach him. When she finds Eugene, he's covered head to toe in blood. Marilyn stumbles upon the scene and asks if he's alive. Regardless of the answer, it's not looking good. 
RELATED: TV Review: Derry Girls Final Season Bursts at the Seams With Heart
I think what I detest most about the love triangle on this show is Wednesday's male prospects. Neither of them is remotely interesting nor holds a candle to our heroine's superior intellect, skill and wit. I want someone who can match Wednesday on every level. Someone who challenges her, not Boring Wonder Bread #1 and Boring Wonder Bread #2. If I had to choose, I'd pick Tyler, who seems the least suspicious. 
Anyway, the plot thickens with Eugene's injuries. I believe we'll see an emotional shift in Wednesday. The stakes are higher now; we might glimpse a more vulnerable side to her. Bring it on (snap, snap).
Wednesday Season 1 is now streaming on Netflix. 
Related
Continue reading...
Read On "Geek Girl Authority"
More News On "Geek Girl Authority"