Turkey and Syria earthquake live updates: 7.8-magnitude quake kills hundreds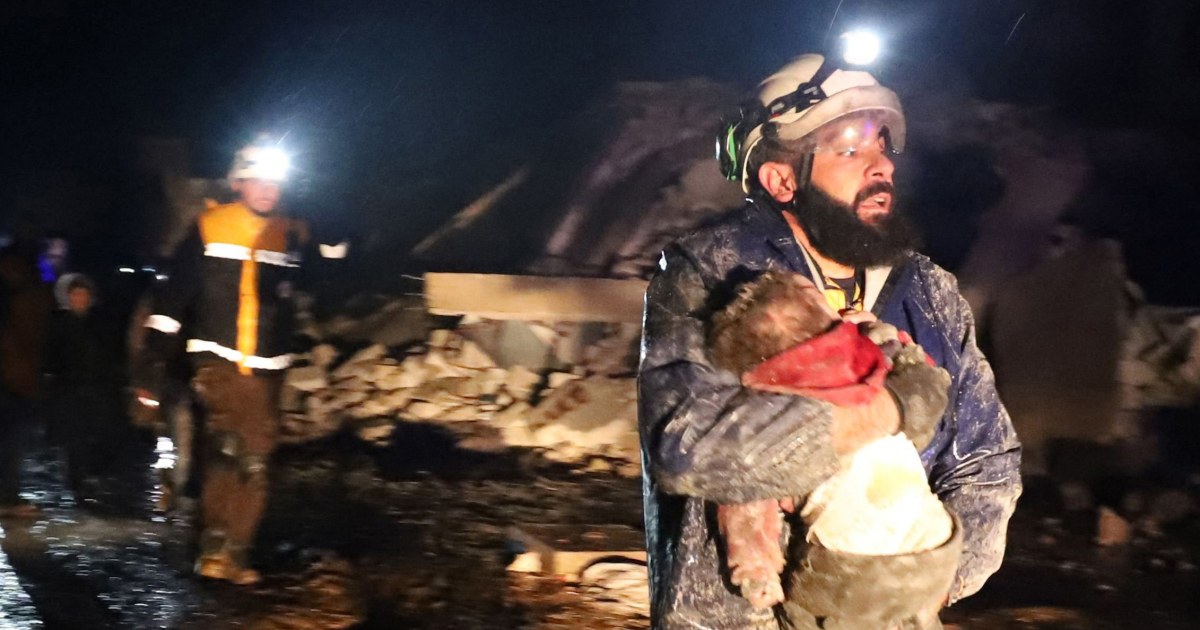 1 month ago
NBC News
TV reporter runs as second quake hits live on air
Video has been shared on Turkish TV showing a news team reporting on the huge early morning earthquake being forced to flee as a second temblor strikes.
At at 1:25 p.m. (5:25 a.m. ET) the reporter is shown standing in a built-up street in the eastern city of Malatya, which was already covered in debris and dust, as a small crowd of people surveys the damage.
Soon sirens begin to sound, shouts are heard and then a crashing roar reverberates as the crowd and reporting team run for safety. A cloud of dust rises around them.
It's unclear whether the apparent building collapse was caused by the second earthquake reported Monday at around the same time. The broadcaster, A Haber, said damaged buildings fell down as an aftershock hit.
Share this -
Massive new quake rocks Turkey and Syria as death toll rises to more than 1,300
A massive new earthquake hit southern Turkey on Monday, hours after a 7.8-magnitude quake killed more than 1,300 people in the country and neighboring Syria, with scores more trapped in the rubble.
Residents joined rescuers to search for survivors in freezing conditions, with the death toll expected to increase as the level of destruction became clear from the initial powerful pre-dawn temblor.
A 7.5-magnitude temblor then hit about 100 miles north of Gaziantep at a depth of 6 miles or so at 1:24 p.m. local time (5:24 a.m. ET), according to the U.S. Geological Survey.
Read the full story here.
Share this -
Photos: Rush to rescue survivors after buildings collapse in Syrian city of Aleppo
Locals watch as rescue teams search for survivors beneath the rubble of a collapsed building after a 7.8 magnitude earthquake struck in the regime-controlled northern Syrian city of Aleppo early on Monday.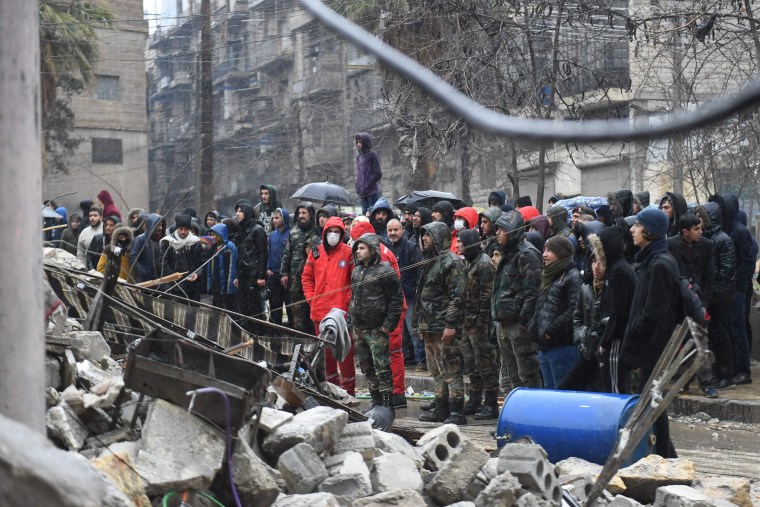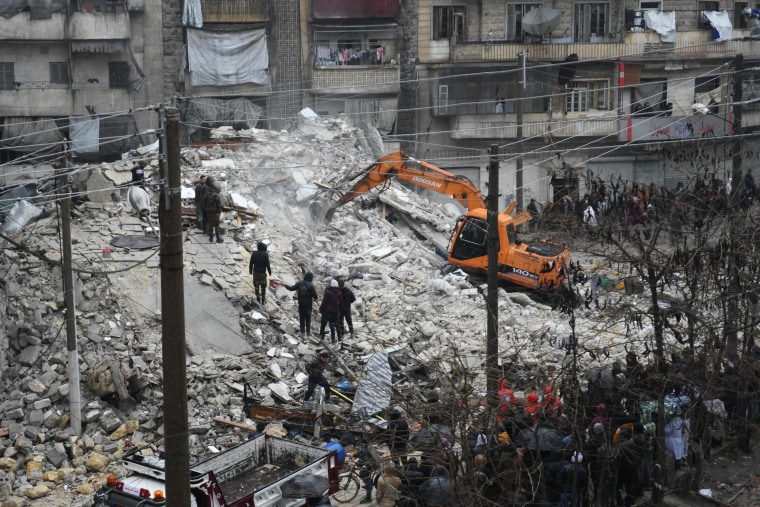 Share this -
World leaders offer condolences and support after quake
Prime ministers and presidents across the world have been quick to offer support and solidarity to Turkey and Syria as both nations reel from Monday's earthquake. Turkey's President Recep Tayyip Erdogan said 45 countries had offered to help with search and rescue operations.
Indian Prime Minister Narendra Modi said in a tweet he was "anguished" by the loss of life and immediately offered assistance.
Similar offers of condolence and assistance were made by Israel's Prime Minister Benjamin Netanyahu, British Prime Minister Rishi Sunak, Pakistani Prime Minister Shehbaz Sharif and Lebanon's caretaker Prime Minister Najib Mikati.
Support was also offered to Turkey and Syria by Russian President Vladimir Putin, in a message on the Kremlin's website.
Share this -
Photos: Children treated for injuries in rebel-held Syria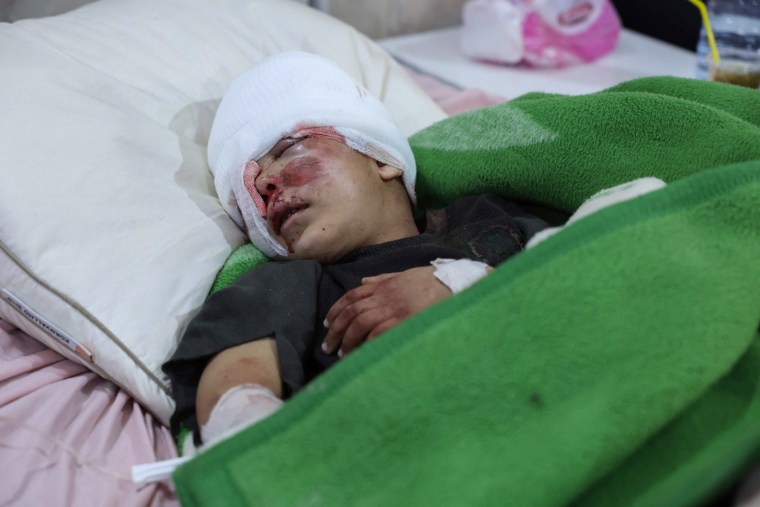 Children injured in a morning earthquake receive treatment at al-Rahma hospital in the Syrian town of Darkush on the outskirts of the rebel-held province of Idlib on Monday.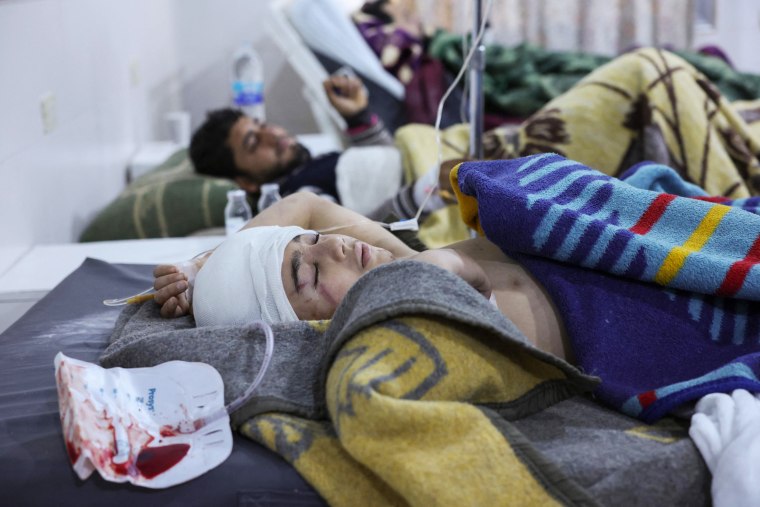 Share this -
New massive quake hits Turkey and Syria
A second massive 7.6-magnitude earthquake has hit southeastern Turkey, the country's Disaster and Emergency Management Authority said.
Share this -
Quake kills 912 and injures more than 5,000 in Turkey, Erdogan says
At least 912 people were killed and 5,383 injured in Turkey in Monday's magnitude-7.8 earthquake, President Recep Tayyip Erdogan said.
Erdogan said it was the country's largest disaster since 1939, adding that 2,818 buildings had collapsed in the earthquake and aftershocks. 
"Nine thousand personnel are currently carrying out search and rescue operations, and this number is constantly increasing with those who reach the region from outside," he added. "We do not know how far the number of dead and injured will rise, as debris removal works continue in many buildings in the earthquake zone."
The number of people rescued was 2,818, he added, speaking on state television.
Share this -
Photos: Desperate efforts to find survivors in southern Turkey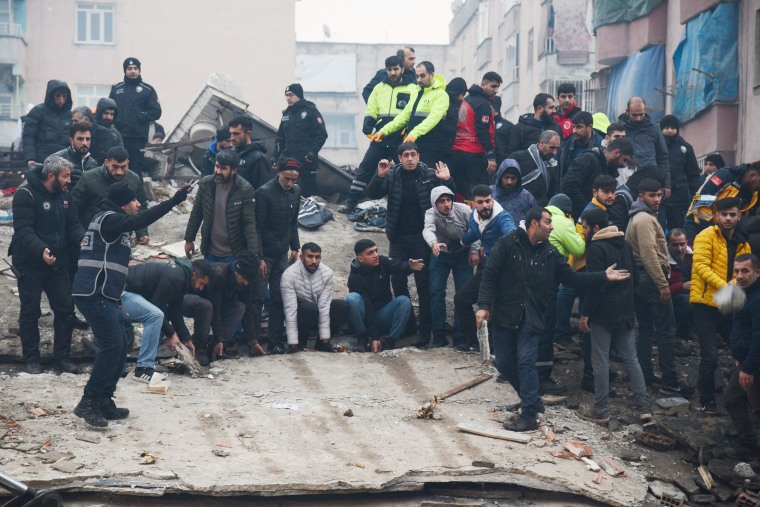 Local men help rescue workers as they try to move a large piece of debris after a building collapsed in Diyarbakir, Turkey, on Monday, trapping residents underneath the rubble. A man weeps during the search for survivors in Diyarbakir after the 7.8-magnitude earthquake struck.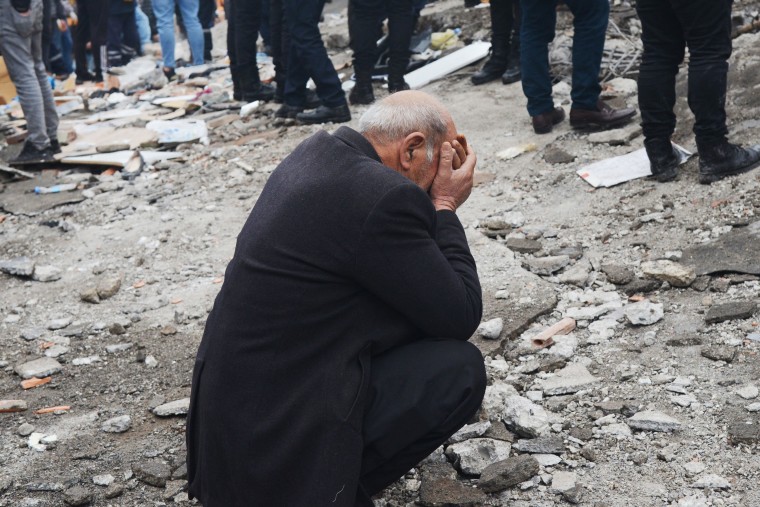 Share this -
WHO concerned about some areas of Turkey after earthquake — official
GENEVA — The World Health Organization (WHO) said on Monday it was concerned about areas in Turkey from which there had been no news following a deadly earthquake overnight.
"National authorities will be focussing on search and rescue at the moment," a WHO spokesperson told Reuters in a statement. "Then we will expect an increased need for trauma care to treat the injured and to support the entire health system in affected areas."
Share this -
Historic castle dating back to the Roman empire partially destroyed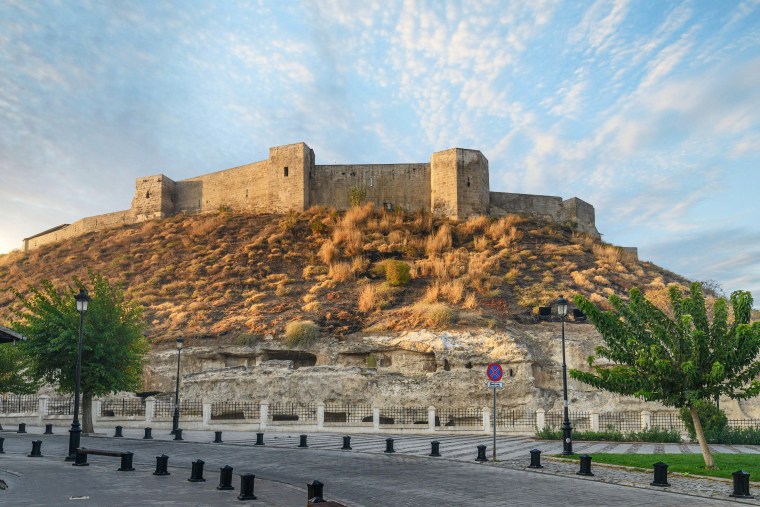 An imposing castle in the city of Gaziantep in southeastern Turkey, which sits on a site that can be traced back to the ancient Hittite empire, has been left in ruins by Monday's devastating earthquake.
The castle was developed and expanded by the Romans in the 2nd and 3rd centuries AD. The Byzantine empire in the 6th century added the 12 towers surrounding the inner keep.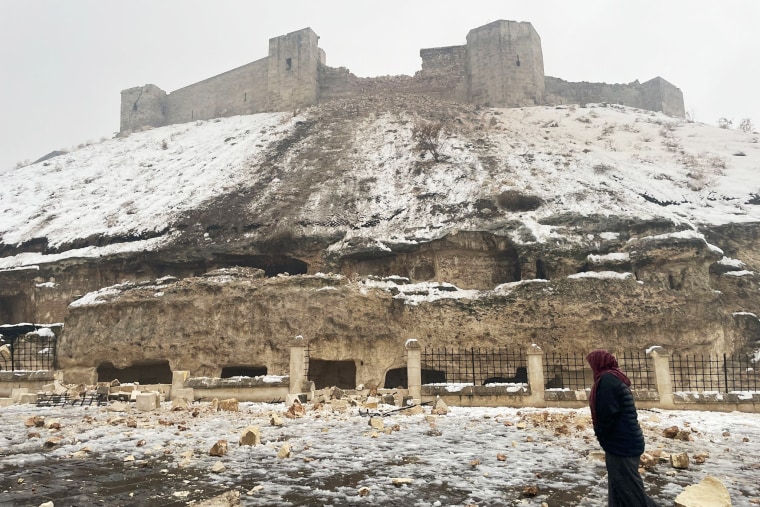 A popular tourist spot, the remarkably well-preserved castle also housed the Gaziantep Defense and Heroism Panoramic Museum, which told the story of the site's central role in the Turkish war of independence following the World War I.
The most recently renovation began in 2020, when a series of ancient underground tunnels was discovered.
Share this -
NATO allies 'mobilizing support now,' secretary general says
Share this -
Photos: Historic Gaziantep Castle badly damaged in quake
The historic Gaziantep Castle appears badly damaged after a huge earthquake struck the southern Turkish province of Gaziantep.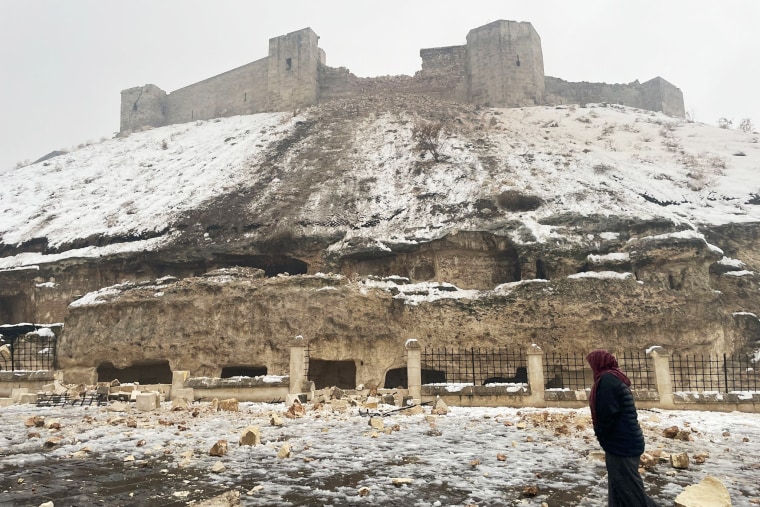 A similar view shows the castle in November 2021.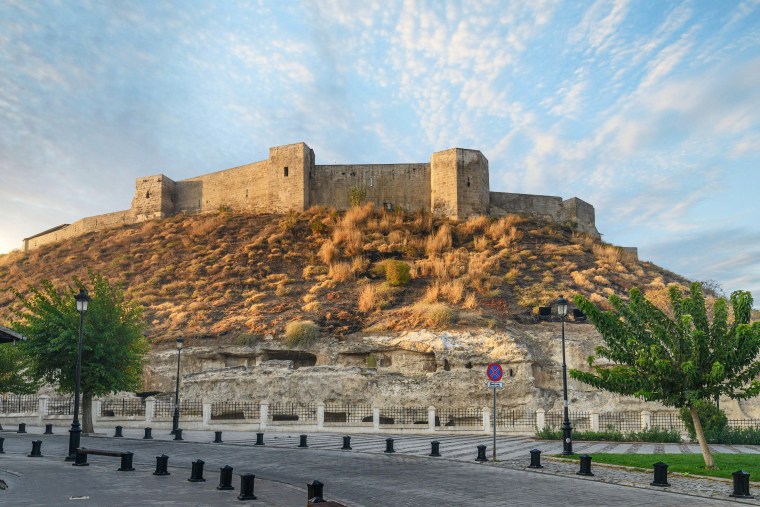 Share this -
Turkey's Iskenderun port damaged from quake
ISTANBUL — Turkey's maritime authority said on Monday that the Iskenderun port located in the southern Turkish province of Hatay is damaged due to the major earthquake.
Following its damage inspections, the authority said on Twitter that operations continue in ports besides Iskenderun. 
Share this -
Photos: Syrian first responders rush to help in northern Idlib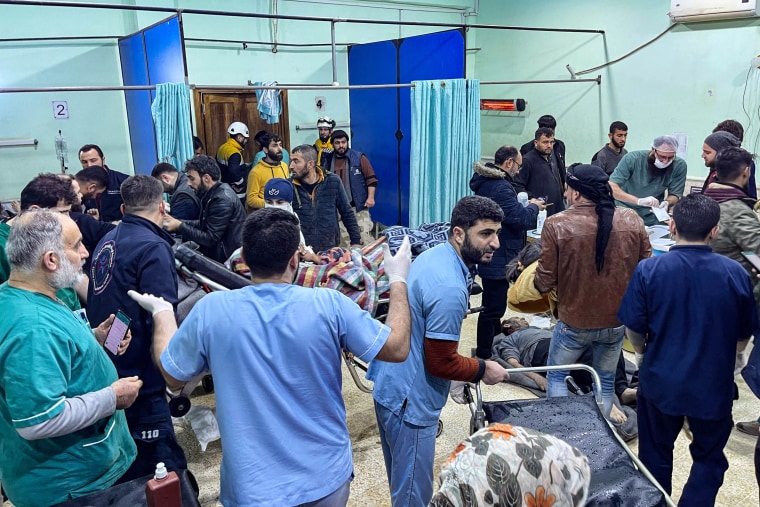 Victims are rushed to the emergency ward of the Bab al-Hawa hospital in the rebel-held northern countryside of Syria's Idlib province on the border with Turkey. Members of the Syrian Civil Defence, also known as the White Helmets, transport an injured person pulled from the rubble in Shalakh village in Idlib's early on Monday.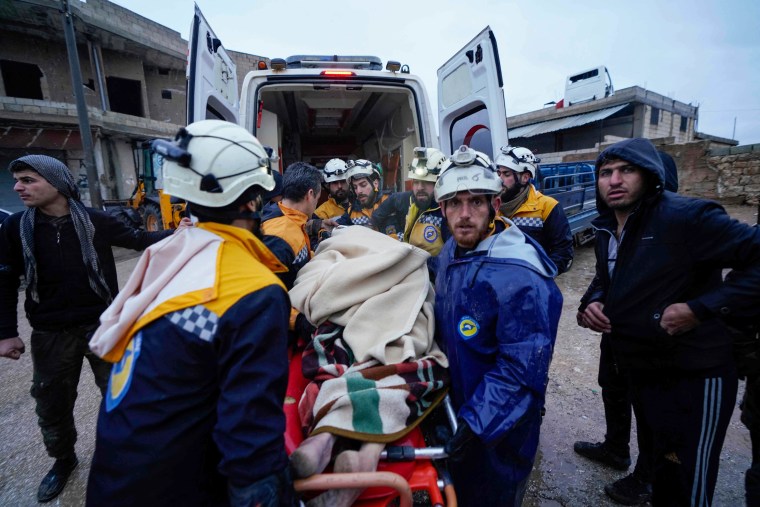 Share this -
France's Emmanuel Macron offers help to quake-struck region
"Terrible images come to us from Turkey and Syria after an earthquake of unprecedented force," France's president wrote on Twitter. "France stands ready to provide emergency aid to the populations on the spot. Our thoughts are with the bereaved families." 
Share this -
Photo: Dramatic rescue of infant in Syria's Idlib province
A member of the Syrian Civil Defence, a volunteer force also known as the White Helmets, carries a child rescued from the rubble in the town of Zardana in the northwestern Idlib province early on Monday.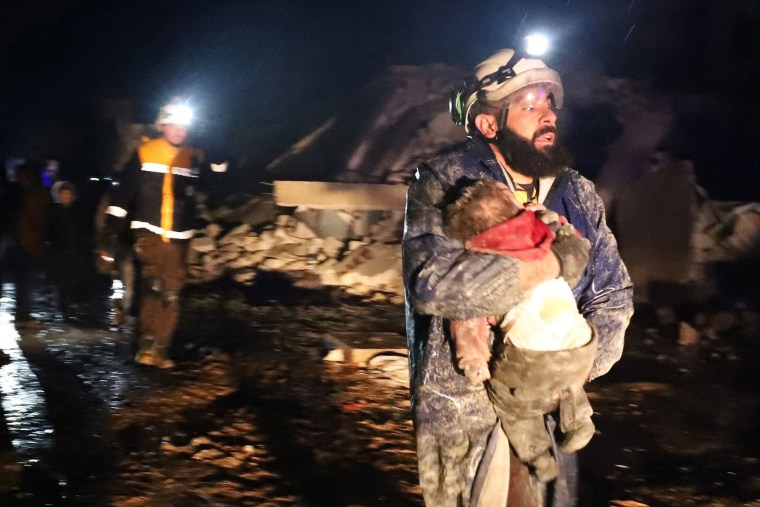 Share this -
Death toll rises to more than 660
At least 668 people have been killed in the quake, according to the latest figures.
At a news conference, Turkish Vice President Fuat Oktay confirmed at least 284 had been killed in the country.
At least 237 more were killed in government-controlled areas of Syria, according to the country's health ministry. At least 147 people were killed in rebel-held areas, according to the White Helmets.
That takes the combined death toll across the two borders to at least 668, with fears it may still rise substantially with scores injured and rescue workers and residents sifting through the rubble.
Share this -
Map shows where the earthquake hit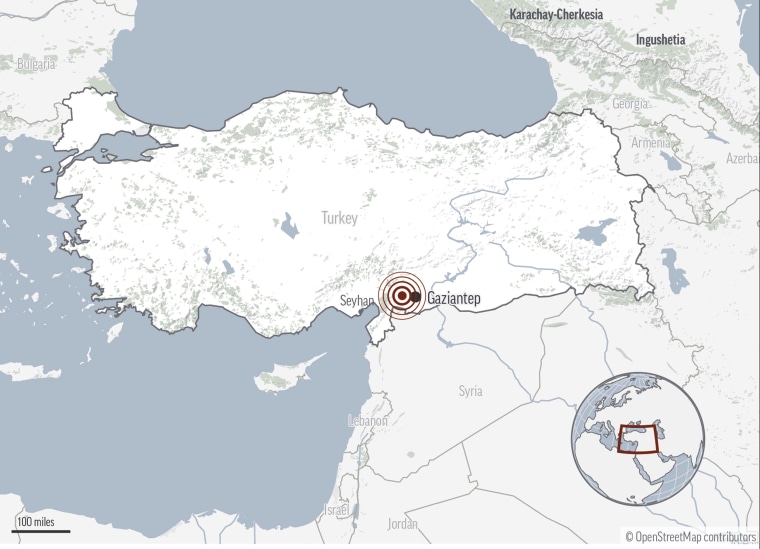 Share this -
Hundreds dead after massive earthquake rocks Turkey and Syria
A 7.8-magnitude earthquake left more than 600 people dead and many trapped as it toppled buildings in southern Turkey and northern Syria on Monday.
Read the full story here.
Share this -
Rescue teams try to reach trapped residents in Adana, Turkey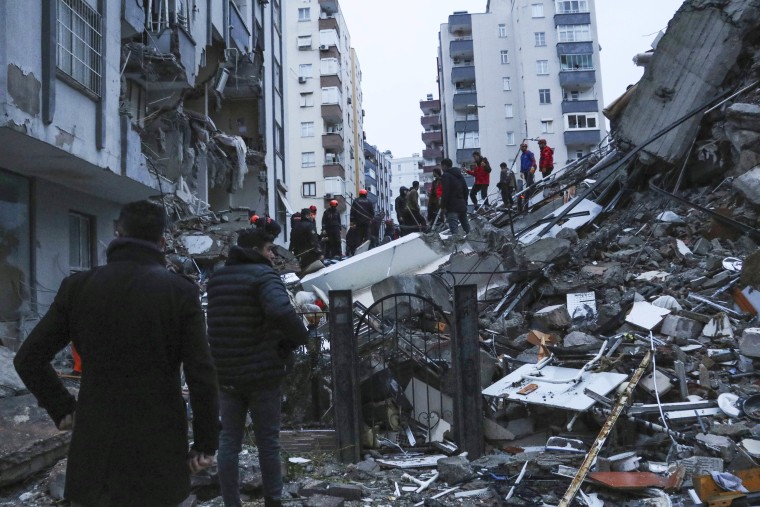 Share this -
Continue reading...
Read On "NBC News"
More News On "NBC News"