Road woes continue as an uninspired Indiana falls 80-65 to Michigan State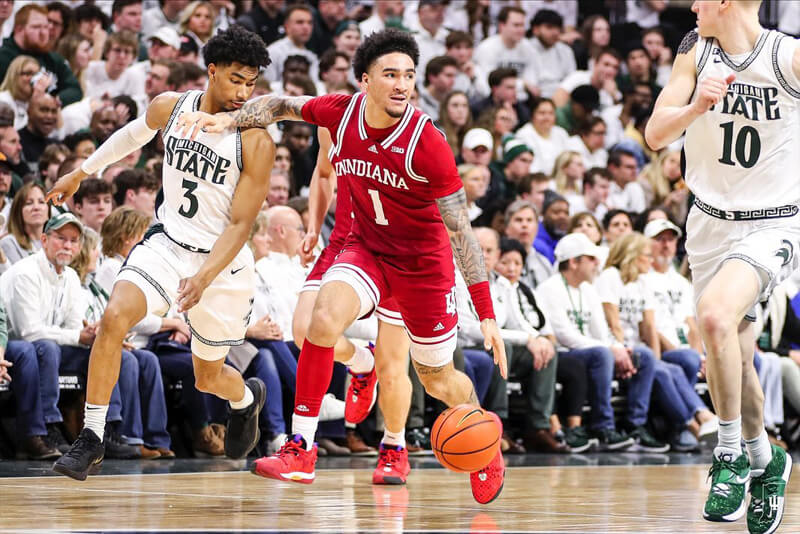 1 month ago
Inside the Hall
Road woes continue as an uninspired Indiana falls 80-65 to Michigan State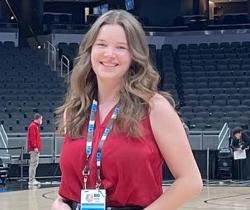 Amanda Foster 21 seconds ago in Media
As Malik Reneau drove to the basket and put the ball up for a layup, Michigan State's Mady Sissoko soared in with a burst of energy. He emphatically swatted the ball away, right into Kaleb Banks' face.
It was the latest example of the gut punches Indiana had suffered from all game.
At that moment in the game, the Hoosiers trailed 57-48 with just under 11 minutes to play in the second half. While they were able to come within eight points of the Spartans a few minutes later, the Hoosiers couldn't muster the energy or motivation to pull out a win, losing 80-65 for their seventh road loss of the season.
An away game with a 9 p.m. tipoff never goes completely smoothly, but Tuesday night Indiana looked like it was climbing a sheer cliff face for most of the game. Trayce Jackson-Davis looked worn down, Race Thompson couldn't get up for rebounds and no one could consistently score.
"I thought we came out playing well early, but as the game wore on they smashed us," Mike Woodson said postgame.
Ultimately, one of the factors behind Michigan State's consistent momentum and Indiana's inability to find buckets or energy was rebounding. Indiana was out-rebounded 33-24, and only grabbed five offensive rebounds to Michigan State's 10. Consequently, the Hoosiers only had nine second-chance points to the Spartans' 13.
Jackson-Davis led the Hoosiers in rebounding, as usual, but only with seven — four less than his season average of 11.3 per game. Reneau followed him with four, and Hood-Schifino grabbed three boards. Thompson had one in 24 minutes of play.
"I think we just got out-toughed," Trey Galloway said.
In a testament to his skill, Jackson-Davis also still led the team in points with 19. But he missed shots he typically makes, and wasn't as forceful on either end of the floor as he's known to be. Jackson-Davis averages about 33 minutes per game but hasn't played less than 37 minutes since Jan. 28 against Ohio State, when he played 33 minutes.
Jackson-Davis played for 35 minutes against Michigan State, exiting for good with about three minutes left on the clock. He only got about one and a half minutes of rest before getting back into the game, and it looked as though his near-constant efforts to play at his best every minute may have caught up to him at times throughout the game.
And on nights when Jackson-Davis can't play full-out every minute, Indiana needs to be able to rely on its other big men to step in his place. Tuesday night, they didn't.
"He missed some shots tonight," Woodson said. "Some shots that he'd normally make, he didn't make them. But it's not just Trayce. You get out-rebounded like we did, and 50-50 balls, and second chances, that's everybody. Not just Trayce."
Even though he scored 16 points, Hood-Schifino only recorded one assist. Thompson scored seven points but grabbed one board. As a team, Indiana only scored six bench points, and four of them came in the final minutes when the game was already decided.
Except for the first 10 minutes of the game – when the Hoosiers found success on both ends of the floor – the team looked uninspired. Jackson-Davis didn't have his usual fire, but neither did anyone else.
There were a few bright spots throughout the game from Jackson-Davis, Hood-Schifino and Galloway, but the Hoosiers couldn't seem to click as a unit. Their defense struggled mightily, allowing 10 Spartan 3-pointers. Thompson recorded Indiana's only rejection.
It was the third game of the season where Jackson-Davis didn't record a block and the first game since Nov. 25.
Indiana's defense has been hot and cold throughout the season, sometimes emerging as a brick wall and other times looking more like Swiss cheese. The Hoosiers can play good defense, and good basketball as a whole, but now the question is whether or not they can do so when they most need to.
Consistency and energy have been two of the biggest liabilities for Indiana of late; even in recent wins, Woodson and his squad have not been able to play a truly clean game. Their energy comes in spurts, as does their scoring, on the road and at home.
With a rematch with Purdue looming and the Big Ten tournament quickly approaching, the question remains whether Indiana can find itself once again and put together a full 40 minute performance.
(Photo credit: IU Athletics)
Filed to: Michigan State Spartans
Continue reading...
Read On "Inside the Hall"
More News On "Inside the Hall"