RB Leipzig Vs Manchester City (Match Preview): Guardiola in Trouble as Laporte, De Bruyne Remain Unavailable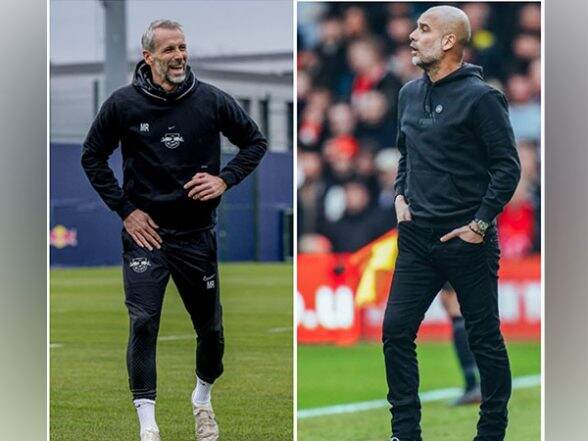 1 month ago
Latestly
Leipzig [Germany], February 22 (ANI): In the hunt for their first UEFA Champions League title, Manchester City will face RB Leipzig on 23rd February. Manchester City may look favourites on the sheet and in terms of overall team quality but Leipzig knows how to counter Guardiola's possession-based approach to a game.
In order to survive this tie Manchester City will rely on their creativity as well as their goal-scoring machine Erling Haland. But even in this aspect, City has suffered a huge blow on the eve of this game. In the pre-match conference, Guardiola revealed that Man City will play without their two key players. "Kevin [de Bruyne] and [Aymeric] Laporte illness. I dunno [if they'll be ready for the weekend.]... it is what is during the season, unfortunately sometimes it happens."He [De Bruyne] didn't feel good right after the game with Forest on Sunday, yesterday Aymeric didn't feel good. Another player is going to play. It happens sometimes."
Also Read | RB Leipzig vs Manchester City, UEFA Champions League 2022-23 Free Live Streaming Online: How To Watch UCL Round of 16 Match Live Telecast on TV & Football Score Updates in IST?.
In the absence of Laporte, Man City will be aware of through balls and passes that will be played over the top of their defensive line. With the likes of Werner and Nkunku who possess explosive pace, RB Leipzig would use both of them to penetrate City's defensive line. With each penetration City's defensive line is likely to crumble and fall apart.
In terms of creating chances Bernardo Silva, Phil Foden and Jack Grealish will try to fill this void. If City fails to create any openings for Haaland then they might walk away with a lot in their hands to do at the Etihad Stadium in the second leg.
Also Read | When is India vs Australia in ICC Women's T20 World Cup 2023 Semifinal? Know Date and Time in IST of IND-W vs AUS-W T20I Match.
The result of this fixture will rely heavily on the tactics that the managers of both teams choose to execute. It won't be a surprise to see the Spanish master tactician Pep Guardiola to come up with a new strategy specifically for this tie. On the other hand, Leipzig's plan will be to wait and watch. For the majority of the game, they will sit in their own half and wait for the perfect opportunity to launch a deadly counter-attack. If they try to take City head-to-head then they are likely to end up with the same scoreline as they did in their previous encounter. They might manage to score a couple of goals but leaving Haaland, Grealish or Foden in open space will create a huge burden for their defence. This tactic will be a dual edge sword for the hosts.
In the end, it will be interesting to see the mindset as well as the tactics that both teams use for this fixture. (ANI)
(This is an unedited and auto-generated story from Syndicated News feed, LatestLY Staff may not have modified or edited the content body)
Continue reading...
Read On "Latestly"
More News On "Latestly"