"No one has seen him smile this hard": Even Jennifer Lopez Couldn't Ruin Ben Affleck's Mood at Dunkin' Donuts Commercial at Super Bowl as Batman Actor Gives Widest Grin After Miserable Grammys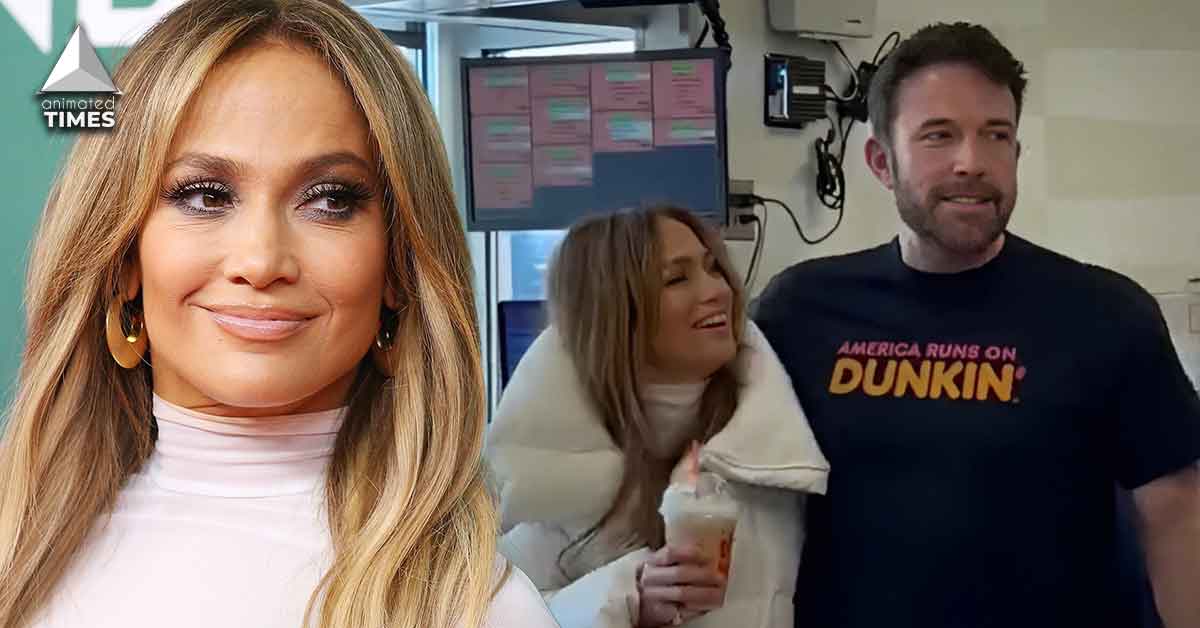 1 month ago
Animated Times
"No one has seen him smile this hard": Even Jennifer Lopez Couldn't Ruin Ben Affleck's Mood at Dunkin' Donuts Commercial at Super Bowl as Batman Actor Gives Widest Grin After Miserable Grammys
Hollywood's most legendary duo has returned to the big screen! No, not for a film, but for a television commercial. Ben Affleck and Jennifer Lopez were the hot couple of the early 2000s, and nearly two decades later, in April 2021, they rekindled their romance and got engaged again. A lot has happened in their dysfunctional relationship since they separated in 2004 and later married their respective spouses, but fate has other plans for them. Last month, the two were photographed at a local Dunkin' Donuts in Medford, Massachusetts, where he and J.Lo were purportedly filming a commercial in which he acted as an employee and took his wife's order.
Ben Affleck shocked Dunkin' Donuts customers while working the drive-thru last month
Affleck was seen in the photographs wearing the trademark brown staff T-shirt, a matching visor, and a drive-thru headset, and a source close to the actor told ET that he is filming a widely anticipated commercial with Dunkin' Donuts. "Ben is substantially involved in the commercial because he pitched the idea, directs it, and stars in it," the source said. The insider further claimed,
"Ben has always been a fan of Dunkin' Donuts, and this collaboration couldn't be more ideal. He's been highly involved in the entire process and is eager for everyone to see the results."
Also Read: 'She's 100% a Selfish Woman': Fans Outraged After Jennifer Lopez Wears $2300 Dress on Paris Honeymoon With Ben Affleck While Asking Donations for Children's Hospitals
The Way Back actor wears a Dunkin' employee suit and works in a drive-thru for the donuts and coffee business in the commercial, which aired on February 12 during the Super Bowl. In the video, the actor can be seen working away, fumbling for the bagel button on the store's ordering system, and chatting with customers.
Ben Affleck & Jennifer Lopez star in new #SuperBowl  ad for Dunkin Donuts.
pic.twitter.com/s2JYZ45TJs
— Film Updates (@FilmUpdates) February 13, 2023
Also Read: Jennifer Lopez and Ben Affleck Go House Hunting in the Poshest LA Neighborhood for $34.5M Home as Rumored Marriage Troubles Seemingly Destroys Their Family from the Inside
In the 2023 Super Bowl commercial, Ben Affleck and Jennifer Lopez were spotted working in the drive-thru
Who wouldn't recognize the hot actor? He drew a lot of attention from his fans, and they recognized him, including one who got super excited and shocked upon pulling up to the window and another who requested to take a picture with him, along with many who were shocked to see him taking orders and got confused about his being there. Then his wife, Jennifer Lopez, steps in and asks, "What are you doing here? Do you do this when you claim you're going to work all day?" Jennifer asks him in the commercial. The Tripple Frontier actor then states to his off-camera Dunkin' coworkers, "I must go guys." "Grab me a glazed," the singer then replied.
Lisa Mackay, a Dunkin' Donuts consumer in Medford, Massachusetts, tells ET,
"Yesterday, Ben Affleck was in a Dunkin' Donuts commercial. When I saw him, I was both startled and terrified. He received my order, and I offered him $10, which he promptly returned with my iced coffee. He was extremely pleasant, quite humorous, and, of course, very attractive. I didn't see J.Lo, but she was rumored to be inside."
Also Read: "She knows how much Ben hates award shows": Jennifer Lopez Took Revenge on Ben Affleck for Dragging Her to Dunkin' Donuts by Making Him Miserable at the Grammys
Ben Affleck and Jennifer Lopez met while filming Gigli in 2002 and began dating the following year. In November 2002, the Gone Baby Gone actor proposed to her on one knee, and they were engaged. The duo was the most adored and followed by paparazzi couples at the time, which led to rumors that Affleck and Lopez called off their wedding back in 2003.
Source: Page Six
Continue reading...
Read On "Animated Times"
More News On "Animated Times"