No. 6 Texas needs OT at home to escape Oklahoma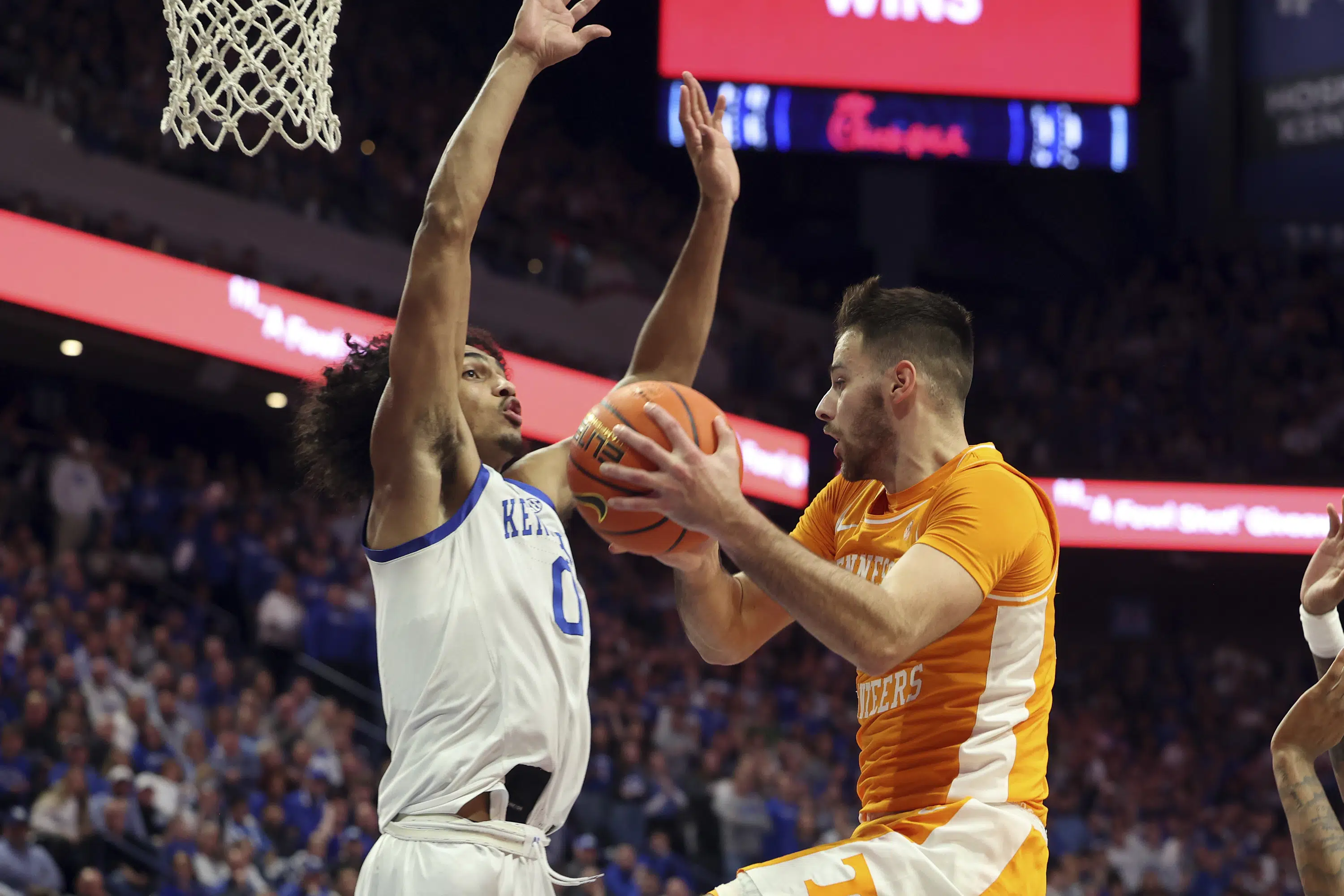 1 month ago
AP News
No. 6 Texas needs OT at home to escape Oklahoma
Kentucky's Jacob Toppin, left, defends Tennessee's Santiago Vescovi (25) during the second half of an NCAA college basketball game in Lexington, Ky., Saturday, Feb. 18, 2023. Kentucky won 66-54. (AP Photo/James Crisp)
Kentucky's Jacob Toppin, left, defends Tennessee's Santiago Vescovi (25) during the second half of an NCAA college basketball game in Lexington, Ky., Saturday, Feb. 18, 2023. Kentucky won 66-54. (AP Photo/James Crisp)
LEXINGTON, Ky. (AP) — Sir'Jabari Rice scored 20 of his game-high 24 points in the second half and overtime, and No. 6 Texas held off Oklahoma 85-53 on Saturday.
Rice's fourth 3-pointer of the game gave Texas an 84-77 lead with 2:26 left in overtime.
Oklahoma, however, had a chance to tie or win when Texas' Tyrese Hunter missed one of two free throws with 6.8 seconds left. But Sam Godwin missed a shot from near the rim, and Texas extended its winning streak against Oklahoma to five games.
Marcus Carr added 17 points for Texas (21-6, 10-4 Big 12), and Timmy Allen had 15 points, nine rebounds and four assists.
Grant Sherfield led Oklahoma (13-14, 3-11) with 18 points, including a 3-pointer that sent the game to overtime. Milos Uzan scored 15 for the Sooners.
KENTUCKY 66, NO. 10 TENNESSEE 54
LEXINGTON, Ky. (AP) — Cason Wallace and Oscar Tshiebwe each scored 16 points and Kentucky rushed to a big lead and beat Tennessee.
ADVERTISEMENT
The Volunteers (20-7, 9-5 SEC) trailed by 20 points at halftime and lost in their first game since toppling No. 1 Alabama.
The Wildcats (18-9, 9-5) earned their first regular-season sweep of Tennessee since the 2011-12 season. Kentucky defeated the Volunteers 63-56 on Jan. 14 in Knoxville.
Wallace had totaled nine points in the Wildcats' previous two games. Chris Livingston added 12 points and Jacob Toppin had 11.
NO. 7 VIRGINIA 57, NOTRE DAME 55
Kihei Clark scored 15 points, including a pair of critical free throws with 22.6 seconds left, and became Virginia's career assist leader in the No. 7 Cavaliers' narrow 57-55 victory over Notre Dame on Saturday.
With Notre Dame closing to 55-54, Clark converted both ends of a one-and-one. Trey Wertz made the front end of a one-and-one with 3.9 seconds left for the Fighting Irish, but missed the second after a timeout. The ball was tipped out to Dane Goodwin for a potential game-winning 3-pointer, but his shot bounced off the rim.
Armaan Franklin added 12 points and Reece Beekman had 11 for Virginia (21-4, 13-3 Atlantic Coast Conference). Nate Laszewski led Notre Dame (10-17, 2-14) with 18 points and Goodwin had 12. The loss left the Fighting Irish 0-10 away from home this season.
NO. 12 KANSAS STATE 61, NO. 19 IOWA STATE 55
ADVERTISEMENT
MANHATTAN, Kan. (AP) — Markquis Nowell hit a 3-pointer from near midcourt with 2:42 remaining to help Kansas State over Iowa State.
Nowell finished with 20 points. Keyontae Johnson had 15 points for the Wildcats (20-7, 8-6 Big 12).
Aljaž Kunc led Iowa State (17-9, 8-6) with 15 points. Without their 3-point leader Caleb Grill in the lineup, the Cyclones worked inside the paint. They had 24 points inside and relied on a balanced scoring line led by Kunc.
NO. 14 INDIANA 71, ILLINOIS 68
BLOOMINGTON, Ind. (AP) — Trayce Jackson-Davis finished with 26 points and 12 rebounds, Jalen Hood Schifino made two free throws with 30.7 seconds left, and Indiana rallied from a nine-point second-half deficit to beat Illinois.
Hood-Schifino had 13 points for the Hoosiers (19-8, 10-6 Big Ten), who have won nine of 11 overall and 15 straight on their homecourt.
ADVERTISEMENT
Matthew Mayer scored 24 to lead the Fighting Illini (17-9, 8-7), who were without injured leading scorer Terrence Shannon.
NO. 15 MIAMI 96, WAKE FOREST 87
CORAL GABLES, Fla. (AP) — Isaiah Wong scored 27 points and Nijel Pack finished with 24 in Miami's win over Wake Forest.
Norchard Omier had 17 points on 7-of-8 shooting while Jordan Miller added 14 points for the Hurricanes (22-5, 13-4 Atlantic Coast Conference), who won their sixth straight and improved to 15-0 at home.
Tyree Appleby scored 15 points and Damari Monsanto and Cameron Hildreth had 14 each for the Demon Deacons (17-10, 9-7). Andrew Carr and Mathew Marsh finished with 12 points each.
NO. 20 UCONN 64, SETON HALL 55
STORRS, Conn. (AP) — Jordan Hawkins scored 20 points and UConn used a big second-half run to beat Seton Hall.
Andre Jackson had a career high 15 points and grabbed 10 rebounds for UConn (20-7, 9-7 Big East).
Al-Amir Dawes and Tyrese Samuel each had 16 points for Seton Hall (16-12, 9-8), which trailed by 16 points with six minutes to play before a late run that fell short.
ADVERTISEMENT
NO. 22 TCU 100, OKLAHOMA STATE 75
FORT WORTH, Texas (AP) — Mike Miles Jr. had 15 points in his first game in three weeks, five other TCU players also scored in double figures, and the Horned Frogs snapped a four-game losing streak by beating Oklahoma State.
Emanuel Miller had 18 points to lead TCU (18-9, 7-7 Big 12), which shot a staggering season-high 68.4% (39 of 57) from the field. Damion Baugh had 16 points with 11 assists. Shahada Wells had 15 points, Chuck O'Bannon 12 and Micah Peavy 10.
Bryce Thompson had 18 points and John-Michael White 15 for the Cowboys (16-11, 7-7).
___
AP college basketball: https://apnews.com/hub/college-basketball and https://apnews.com/hub/ap-top-25-college-basketball-poll and https://twitter.com/AP_Top25
Continue reading...
Read On "AP News"
More News On "AP News"