Newcastle not yet an evil-empire side but cup final feels like a springboard
29 days ago
The Guardian
Trafalgar Square, Saturday evening. White smoke against a red sunset, the hot breath of a thousand singing voices wafting into the cold London air like pissed little doves. Wembley is still a day, a three-zone Oyster card journey and several cans away. But in a way, the 2023 League Cup final has already been under way for several hours.
They've braved the trains, the traffic and London prices. Whole towns have emptied for the weekend. Sam Fender and his band have come along for the party, and pump out a raucous version of Local Hero. Everyone wants a piece of this. And of course the game still means everything. But somehow there is also a larger undertaking here, the idea that what matters above all is their *presence*: a reclamation of turf, an assertion of self. We can win or we can lose. But either way, you will notice us again.
Does this still hold true when you are clutching your losing medals and your bitter memories, when Monday morning's hangover has already pre-emptively set in? Perhaps. Or perhaps in retrospect, this final was the point at which a strong flag game and a well-organised salt-of-the-earth defence ran up against the simple hard edges of superior sporting talent. You can pack the piazzas of London and sing your songs of civic identity. But you are, ultimately, still a team trying to defend against half a billion pounds' worth of attacking talent with Dan Burn and Loris Karius.
There was little to fault in Newcastle's effort or strategy here. They had plenty of the ball, won plenty of duels, created plenty of little half-openings, scrapped and suffered in all the right places. They tried to grasp control of the game in the second half, pressing high and pinging crosses into the box. Eddie Howe's substitutions made sense. Even Karius, sent out cold like some poor sacrificial opening batsman making his debut in the fifth Test of an Ashes whitewash, acquitted himself well enough.
But they are not yet able to call on a midfielder of the experience of Casemiro or a forward of the irresistible gifts of Marcus Rashford or a coach as good as Erik ten Hag. And as chairman Yasir al-Rumayyan and director Amanda Staveley applauded politely from the royal box it was tempting to wonder what lessons they might take from this display in the medium term. Already it feels like the first chapter of the Newcastle project is drawing to a close. The next chapter, it feels safe to posit, probably does not have a place for Sean Longstaff in it.
Longstaff. Burn. Joelinton. Miguel Almirón. Matt Ritchie. This is not, if we're brutally honest, the stuff of evil empires. This is not a team the Siths would ever have put out, unless the Siths were trying to make a late burst for the Championship playoffs. And perhaps this is part of the reason the Newcastle story has been able to retain a whiff of underdog romance, even allowing for the wealth and depravity of their ownership. This is the core of a squad that looked destined for relegation last season and has punched spectacularly above its weight this time round. The next time they appear at Wembley, they may well look considerably different.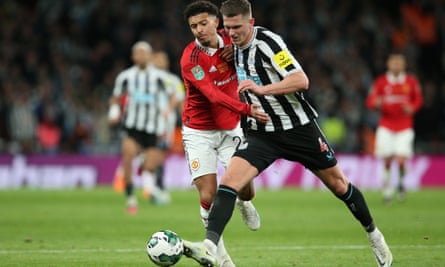 Sven Botman (right) holds off Manchester United's Jadon Sancho.
Photograph: Richard Sellers/Getty Images
It was always going to take six to eight transfer windows to remake a squad whose original function was to keep Steve Bruce in a job. There have been clear upgrades at right-back and in midfield, where Kieran Trippier and Bruno Guimarães have been among the Premier League's standout players this season. Sven Botman and Nick Pope are also in it for the long haul. But if this game showed us anything, it is how many of the rest still feel like placeholders, honest triers, temporary solutions.
And as Manchester United seized control towards the end of the first half, the gulf in big-game expertise was soon apparent. Of the Newcastle starting XI only Bruno (a Copa Sudamericana and an Olympic gold medal with Brazil) has won a final of consequence. Trippier and Botman have won league titles with Atlético Madrid and Lille. But for many of the rest this was a step into the unknown. And as attack after attack broke down in a fluster of poor decisions it was possible to glimpse that slight sense of vertigo, the absence of collective muscle memory that might have allowed them to weather the stickier moments.
skip past newsletter promotion
Sign up to Football Daily
Free daily newsletter
Kick off your evenings with the Guardian's take on the world of football
Privacy Notice: Newsletters may contain info about charities, online ads, and content funded by outside parties. For more information see our
Newsletters may contain info about charities, online ads, and content funded by outside parties. For more information see our Privacy Policy . We use Google reCaptcha to protect our website and the Google Privacy Policy and Terms of Service apply.
after newsletter promotion
Quick Guide
How do I sign up for sport breaking news alerts?
ShowDownload the Guardian app from the iOS App Store on iPhone or the Google Play store on Android by searching for 'The Guardian'.If you already have the Guardian app, make sure you're on the most recent version.In the Guardian app, tap the Menu button at the bottom right, then go to Settings (the gear icon), then Notifications.Turn on sport notifications.
Was this helpful?
Thank you for your feedback.
As a club you can either try and forge that experience, or buy it in. Perhaps the most important signing in Manchester City's recent history was not Vincent Kompany or Kevin De Bruyne but Yaya Touré: the serial winner whose very presence seemed to legitimise and elevate the entire project. Newcastle are not quite shopping in the Yaya aisle yet. But when your owners are sitting on a portfolio of half a trillion pounds, it's fair to say they're probably looking.
As the minutes leaked away, one final show of defiance from the Newcastle fans: an ocean of fluttering flags, waves of songs washing over Wembley. But of course the public investment fund of Saudi Arabia does not accept payments in civic pride. They did not get into this sport to lose with dignity. Phase one – you will notice us again – is almost at an end. We may just have seen the springboard for phase two.
Continue reading...
Read On "The Guardian"
More News On "The Guardian"