'Never been in a fight like this': Paul 'getting f***ed up' by Fury early on — LIVE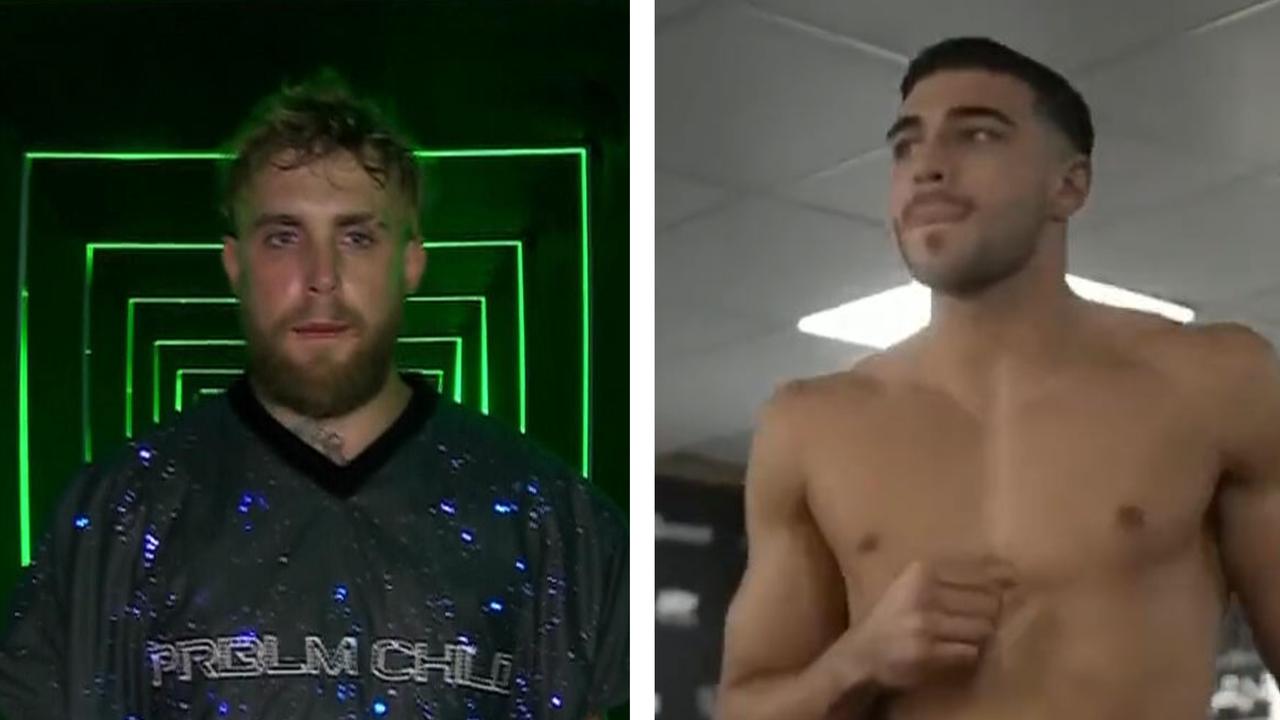 27 days ago
Fox Sports
Paul vs Fury: Best moments from weigh in | 06:17
Jake Paul and Tommy Fury will finally get to settle the score as the two face off in a cruiserweight bout in Saudi Arabia.
The fight will go ahead after two failed attempts in previous years due to injuries and visa troubles for Fury.
Follow all the action from Paul v Fury in our LIVE BLOG below!
Watch Jake Paul vs Tommy Fury via Main Event and Kayo from 6am AEDT on Monday February 27. New to Kayo? Start your free trial now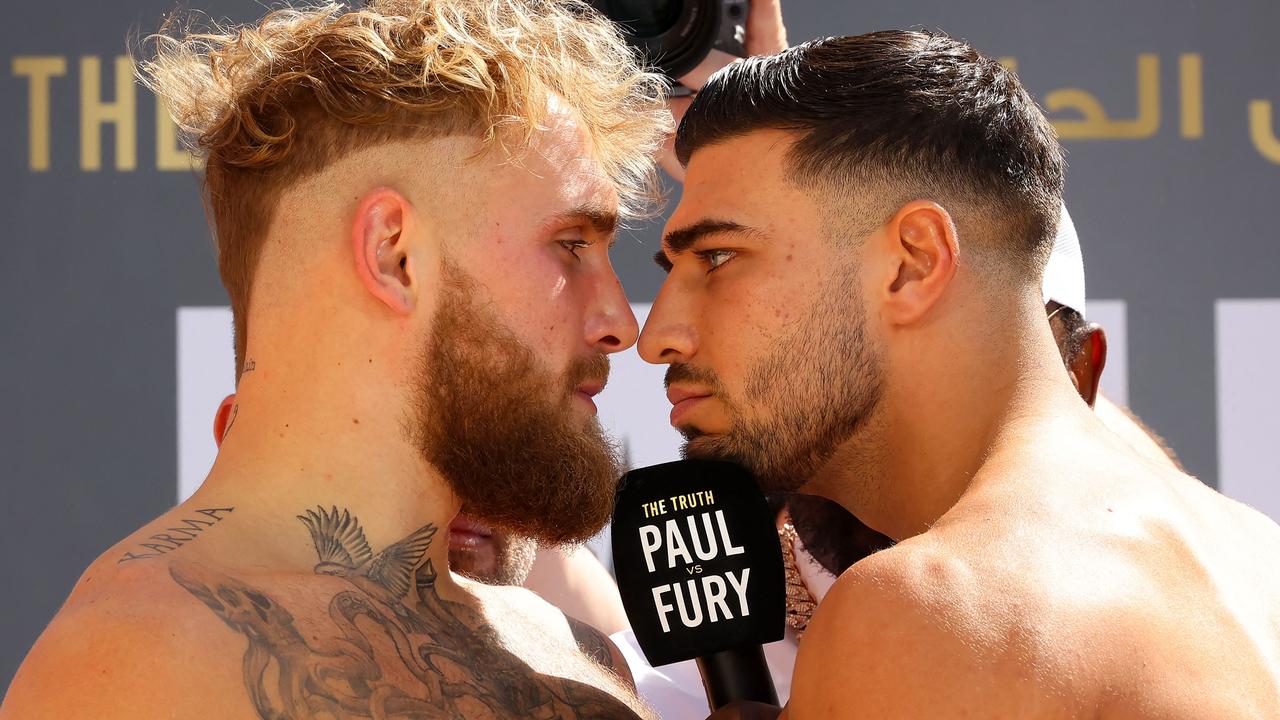 Tommy Fury and Jake Paul will finally come to blows on Monday. (Photo by Fayez Nureldine / AFP)
Source: AFP
MORE COVERAGE
'Shook on it like a man': Paul fumes as 'soft' Fury hesitates over $18m bet
'I don't really know': Jake Paul's staggering money reveal ahead of grudge fight
'Got a deal': Paul, Fury almost come to blows as $18m 'all or nothing' gamble agreed
MAIN EVENT TIME!
Tommy Fury came flying out of the blocks against Jake Paul, although the first round was dogged by plenty of clinching and wrestling.
Fury had the better of the majority of exchanges although Paul landed a strong overhand right, but Fury ended the first round with a flurry of punches.
Fury also had success in the second round before Paul came back to dominate the third.
During the third round break, Logan Paul, Jake's brother, was interviewed at ringside and yelled at Fury, calling him a "b****."
FULL CARD
Jake Paul vs. Tommy Fury
Ilunga Makabu def by Badou Jack via TKO in Round 12 for the WBC cruiserweight title
Ziyad Almaayouf def Ronnald Martinez via UD (38-37 x 3)
Muhsin Cason def Taryel Jafarov via TKO in Round One
Bader Samreen def Viorel Simion via TKO in Round One
Follow all the action from Paul v Fury in our LIVE BLOG below!
Can't see the blog? Click here
SWEDISH STAR WALKS OUT WITH 'IRON' MIKE, BECOMES THREE-TIME WORLD CHAMP
'Iron' Mike Tyson is one of several stars in attendance for Jake Paul's fight against Tommy Fury, but the heavyweight legend had a big interest in the co-main event.
Tyson walked out with Swedish cruiserweight Badou Jack ahead of his WBC world title fight against Ilunga Makabu.
Jack would go on to stop Makabu in the 12th round to become a three-time world champion.
The Swede dropped Makabu twice during the fight and rocked him in the final round before unleashing a barrage of strikes that forced the referee to step in and wave off the contest.
Aussie IBF cruiserweight champion Jai Opetaia no doubt watched the fight with plenty of interest as he looks to unify the division, with Jack now a name on his hit list.
BIZARRE FIGHT SCRIPT REVEALED AS PAUL ARRIVES IN UNIQIUE OUTFIT
Jake Paul has arrived to his fight in a rather unusual outfit, with the social media star donning a balaclava.
Paul also sported a diamond necklace with his nickname "PRBLM CHILD" emblazoned on it, an oversized black t-shirt and a hat.
The social media star's arrival comes after former UFC star Mike Perry leaked a supposed script for the fight itself.
Perry, who was on standby as Paul's opponent should Fury have withdrawn from the fight for a third time, shared the script on Twitter with the caption: "What's happening?"
An astounding amount of detail had been put into it, complete with the outfits each man would wear for their walkouts and how the fight would play out.
Combat athlete and notorious social media troll Dillon Danis also shared the image on his Twitter and wrote: "I've been the one telling everyone since Day 1."
However, most boxing fans on social media weren't fooled by the script.
Jake Paul arrived to the fight wearing a balaclava. Picture: @heyitsmarcosv on Twitter
Source: Twitter
PAUL 'IN TALKS' TO FIGHT UFC GREAT AS CONTROVERSIAL RANKING LOOMS
Jake Paul has already set his sets on his next opponent as the YouTube star-turned boxer prepares to take on Tommy Fury in Saudi Arabia.
The grudge match is finally going ahead at the third time of asking, with Paul considered to be the favourite among the bookies despite Fury being the professional boxer.
Paul also isn't short on any confidence either, bragging he will put Fury to sleep inside four rounds.
Should the 'Problem Child's prediction come true, he's set to waste no time at all when it comes to planning for his next fight.
Paul revealed he's already in talks with UFC legend Nate Diaz, who is now a free agent.
"One hundred per cent," Paul told Sky Sports on the chances of a bout against Diaz.
"There's animosity there. His team is ready, my team is ready. We're in talks.
"Pretty much everything is queued up ready to go. So I'm going to get through Sunday then move on to Nate Diaz."
If a salivating bout against Diaz isn't enough motivation, there's also a WBC world ranking on the cards for Paul or Fury.
It's a controversial move by the WBC considering Fury is the first professional boxer Paul has faced, but it's a clear indication of the social media star's growing reputation in the sport and he's only too happy to be catapulted into the rankings.
"I think it's cool if they want to rank me, that's fine," Paul said.
"It's not up to me. I'm not in control of the WBC and whatever it is they want to do."
Continue reading...
Read On "Fox Sports"
More News On "Fox Sports"