"Maybe Next Year!": Zion Williamson and Ja Morant Reveal Their Future Slam Dunk Contest Plans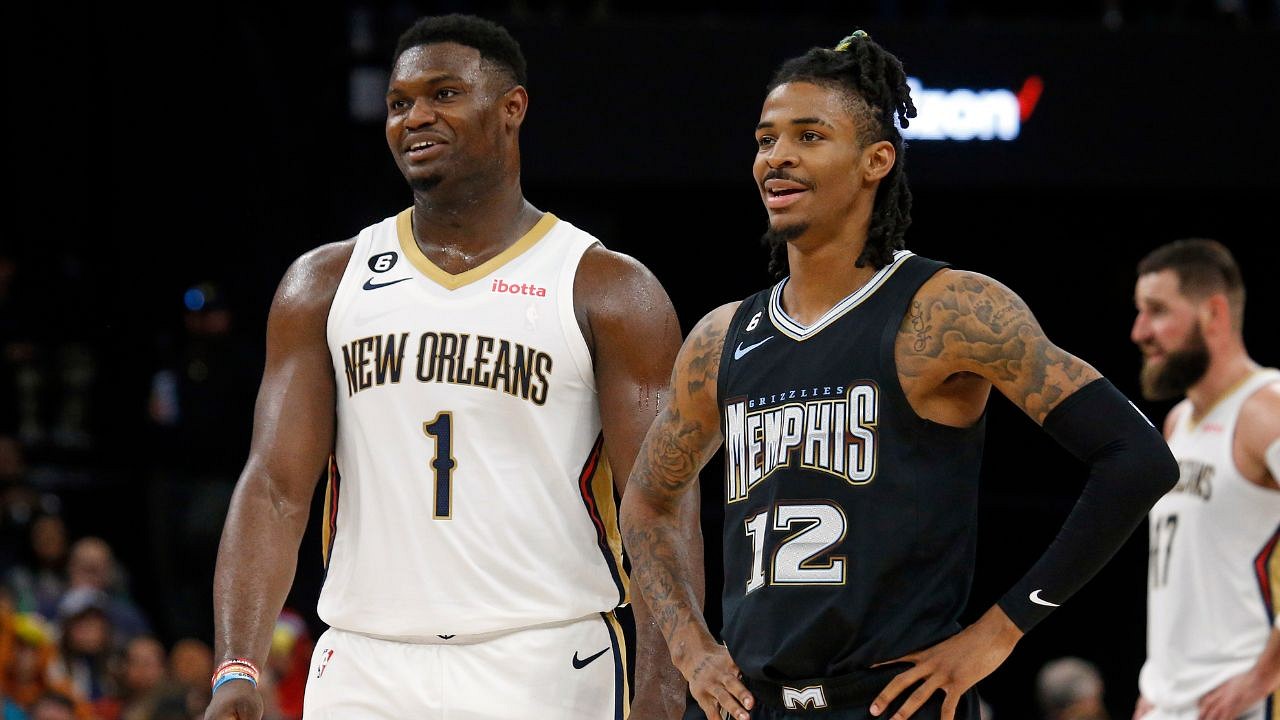 1 month ago
The SportsRush
Apr 9, 2022; Memphis, Tennessee, USA; Memphis Grizzlies guard Ja Morant (12) talks with New Orleans Pelicans forward Zion Williamson (right) after a game at FedExForum. Mandatory Credit: Christine Tannous-USA TODAY Sports
The NBA All-Star Weekend is underway and all the superstars are already in Ohio. Preparations are underway for the multiple events that will take place. But the most anticipated ones tonight are gonna be the 3-pt contest and the Dunk contest. In fact, all eyes will be tuned in to watch the Dunk Contest.
After the flop show last All-Star weekend, the NBA has all the more pressure this time to put on a show. The disappointment from the last Slam Dunk Contest still has a horrible aftertaste.
With anticipation off the charts this time, there is no denying that the quality of this particular event has fallen. Fans want to know if the league will bring in better dunkers the next time around. In fact, Zion Williamson and Ja Morant were also asked about it. While Zion promised he would consider participating next year, Ja Morant wasn't as agreeable.
Also read: "The Biggest Failure For Kevin Durant": Gilbert Arenas Says Not Winning a Championship With Nets Would be Insignificant Compared to Suns
Ja Morant and Zion Williamson reveal their plans for the 2024 NBA All-Star Dunk Contest
Ja Morant and Zion Williamson are easily two of the best dunkers in the league. The vast difference in their height and the way they dunk is also so different. Ja, who is a 6ft 2″ guard, is a high flier. He is creative and has a penchant for rousing crowds.
Zion on the other hand is a 6ft 6″ beast who dunks the ball hard enough to rip off the rim. But Zion's physical health has taken a hit since he joined the league. He has been unable to play at his best. That being said, this still doesn't undermine the explosive dunking ability he carries.
In today's conference, both these young stars were asked if they would ever consider participating in the dunk contest. Zion claimed that he is seriously considering taking part in the next contest.
Williamson: "I feel like if I am gonna do (the dunk contest), I'll probably do it next year."
Could we finally see Zion in the Dunk Contest in 2024? 👀 pic.twitter.com/kmSBrqtqzh
— NBA on ESPN (@ESPNNBA) February 18, 2023
Meanwhile, Morant, who has declined to participate on several instances, has continued to maintain his stance. He straight-up refused to participate in it.
Ja: "I'm not doing the dunk contest"
"I'm not doing the dunk contest"
Ja when asked what it would take for him to do the dunk contest 😢
(via @MikeAScotto) pic.twitter.com/uFEBVvUqP1
— Bleacher Report (@BleacherReport) February 18, 2023
Well, Ja's absence is definitely disappointing but knowing that Zion may participate in the next season's dunk contest is promising.
Also read: "Kevin Durant, Kyrie, Myself, and Dame!": Anthony Edwards Snubs LeBron James and Stephen Curry As Best in the NBA
Continue reading...
Read On "The SportsRush"
More News On "The SportsRush"