Hines Ward embraces fresh challenges as head coach of XFL's San Antonio Brahmas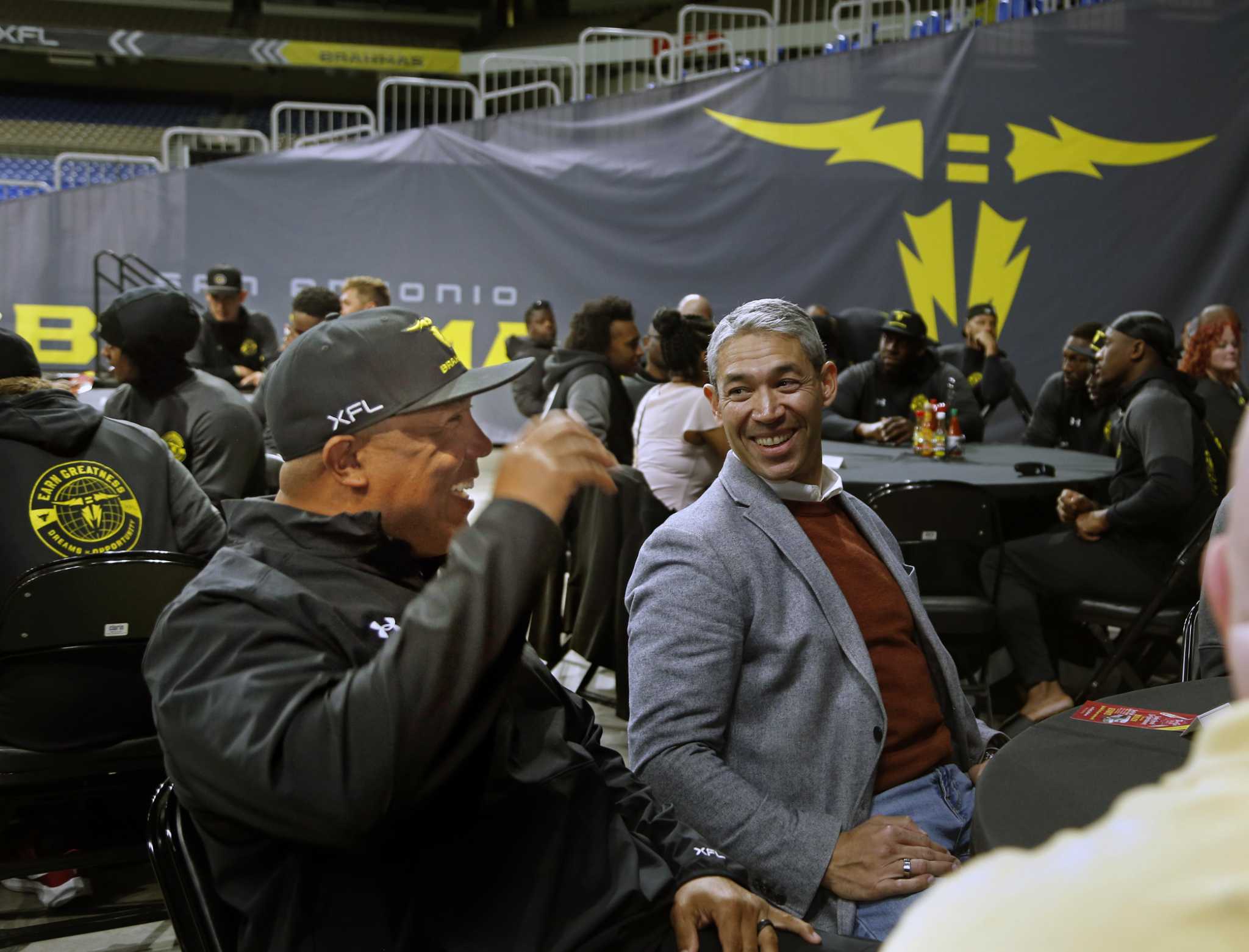 1 month ago
San Antonio Express-News
This is a carousel. Use Next and Previous buttons to navigate
Winding down his career as a former Super Bowl MVP and the Pittsburgh Steelers' all-time leading receiver, Hines Ward began to open his mind to opportunities outside of football.
He said he never envisioned being on "Dancing with the Stars," but winning the 2011 televised competition in many ways became the peak of his popularity.
Through the next few years, he appeared had cameos in the 2012 film "The Dark Knight Rises" and the AMC show "The Walking Dead," joined a celebrity cooking contest on the Food Network, spent four years as an analyst for NBC's "Football Night in America" and became a regular contributor for CNN sports and HLN.
Ward said he had fun with each opportunity but never found the joy he derived from the brotherhood of a football team. He returned to the Steelers as a coaching intern in 2017, then took assistant roles with the Jets in 2019 and Florida Atlantic University in 2021.
Drawn to the prospect of pushing aspiring players to reach their NFL dreams, Ward last year agreed to step into his first head coaching role as the leader of the XFL's San Antonio Brahmas.
"I've done all of these different things in life, but I started missing the camaraderie, and being amongst a locker room," Ward said. "Having that family atmosphere, and helping guys out. When the opportunity presented itself, I jumped all-in. I totally embraced it and am having a blast doing it."
Playing his first nine seasons under Hall of Fame coach Bill Cowher and his final five seasons for likely future Hall of Famer Mike Tomlin, Ward said he sometimes catches himself using the same sayings and analogies he once heard as a player.
While their methods have proven successful — Ward's Steelers won Super Bowl titles under both coaches — Ward is intent on putting his own stamp and personality on the role, just as he did during his time as a team captain and leader of his position drills.
"I don't try to be somebody else," Ward said. "I'm not going to try to be like Cowher. I'm not going to try to be Mike Tomlin. I'm just going to be me. Being real and 100 percent with the players, they respect that. I don't try to give a rah-rah speech. I just keep it real."
Still, Ward has adopted the Steelers' culture in San Antonio, stressing again and again the longtime Tomlin mantra of "the standard is the standard."
Brahmas assistant coach Joey Porter, Ward's teammate for eight years in Pittsburgh, said the Steelers' way is "the only culture we really know."
After stints with Pittsburgh in 2021 and 2022, defensive end Delontae Scott realized the atmosphere in San Antonio would be similar the first time Ward recited "the standard is the standard."
"I thought I was done hearing that," Scott said with a smile. "I should've known."
For Porter, one of the tenets of the Steelers organization is building "lifetime family members." Those connections were among the reasons he didn't hesitate to join Ward in San Antonio.
"It's a natural, true brotherhood we have, that we can't explain," Porter said. "I've been at other places, and I haven't seen it how we have it in Pittsburgh."
Ward wants to foster that environment with the Brahmas, setting up cornhole boards and table tennis at the team hotel to forge bonds through competition.
Diverting much of his time to scheduling and problem-solving, Ward said he's "the CEO of the entire organization" more than an on-field strategist. But he's also worked to "gain an edge in any way we possibly could," focusing on tall wide receivers to exploit the league's shorter cornerbacks and even signing a left-footed punter to present a different look for returners.
Stressing that he would never ask the Brahmas to do something he wouldn't have done in his career, Ward emphasized health through training camp, telling the players the focus is to "get them to the party" of the season opener.
Wanting to prevent unnecessary falls to the ground, Ward limited contact in practice and declined the option for a preseason scrimmage, worried to face a team that "hasn't been taught how to practice."
He's also tried to be mindful of his players' weaknesses, understanding everyone on the roster is in the XFL rather than the NFL for one reason or another, whether that's on-field talent or the daily demands of being a professional.
"I refer to our players as being one-gig computers, and we can't give them five gigs or that circle of death starts spinning," Ward said. "These guys are here for a reason, and some guys can't pick up a playbook. So we feel like if we make it simpler and keep things easy for them, it'll allow them to be at their very best."
Growing up while Ward was amassing 1,000 career catches, 12,083 yards and 85 touchdowns as a four-time Pro Bowl selection, the Brahmas players have an easier time taking lessons from someone who has been in their shoes, center Luke Juriga said.
Scott said he values Ward's style of playing "with an edge," and quarterback Reid Sinnet said he hopes the Brahmas "can emulate the toughness and grit he brought to the game."
"You always have to walk it like you talk it, and I think he's a perfect example of that," defensive back Ryan Lewis said. "Every time he's talking to us, giving us examples of what he wants to see and his vision, everyone is listening. He's a great guy to learn from, and I think he's going to take us far."
Twitter: @GregLuca

Continue reading...
Read On "San Antonio Express-News"
More News On "San Antonio Express-News"