Health minister hits back at claim government no longer talking to unions on pay – UK politics live
1 month ago
The Guardian
Robert Buckland confirms row with Dominic Raab when both were in cabinet over British bill of rights
Robert Buckland has confirmed that he and Dominic Raab had "a disagreement" when they were both in cabinet, after it was reported Raab tried to get Buckland sacked as Welsh secretary last year amid a fallout over policy, my colleague Peter Walker reports.
18m ago
09.14 GMT
Health minister Maria Caulfield hits back at claim government no longer talking to unions on pay
Good morning. Scotland and Wales have had devolved governments for more than 20 years, but it probably was not until Covid that people realised the extent to which, when it comes to health policy, the UK government is just an England government. Today England is seeing what is being described as the worst day of disruption in health this winter, with nurses and ambulance staff both on strike. But health workers are not on strike in Scotland, and there is only a limited ambulance strike in Wales by members of the Unite union. England is different because the Scottish and Welsh governments have made improved pay offers, but the UK England government is not doing the same.
Yesterday Sharon Graham, the Unite general secretary, said UK government ministers were lying when they said pay talks with unions were still taking place.
This morning Maria Caulfield, a health minister, was the government's designated voice on the morning interview programmes. She did not have anything new to announce, but she hit back at claims that ministers were unwilling to talk to the unions. She told the Today programme:
What I would say … to the RCN, as [is] happening in Scotland, they've called off the strikes to discuss the forthcoming year's pay settlement from April, which is just a few weeks away – do the same in England.
The secretary of state's been meeting in January, almost on a weekly basis, with a range of health care unions. So the door is firmly open. And I would ask the RCN and the ambulance unions to get back round the table.
I will post more from Caulfield's interview round shortly.
Here is the agenda for the day.
11.30am: Downing Street holds a lobby briefing.
Morning: Keir Starmer and Jonathan Reynolds, the shadow business secretary, are on a visit in Bristol. Starmer is expected to record a TV interview.
2.30pm: Suella Braverman, the home secretary, takes questions in the Commons.
Afternoon: Peers debate the retained EU law (revocation and reform) bill.
5pm: Spectator TV broadcasts its interview with Liz Truss – her first since she left No 10.
I'll try to monitor the comments below the line (BTL) but it is impossible to read them all. If you have a direct question, do include "Andrew" in it somewhere and I'm more likely to find it. I do try to answer questions, and if they are of general interest I will post the question and reply above the line (ATL), although I can't promise to do this for everyone.
If you want to attract my attention quickly, it is probably better to use Twitter. I'm on @AndrewSparrow.
Alternatively, you can email me at [email protected]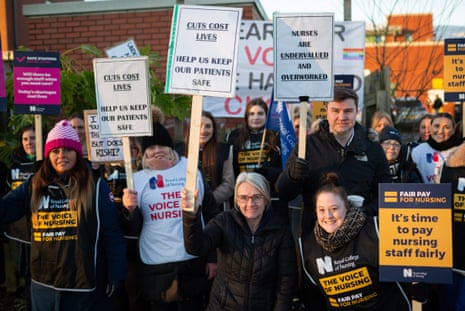 Striking nurses on a picket line outside the Walton Centre in Liverpool this morning.
Photograph: Adam Vaughan/EPA
Updated at 09.25 GMT
Continue reading...
Read On "The Guardian"
More News On "The Guardian"