College basketball scores, winners and losers: Kentucky boosts its resume, Baylor collapses in second half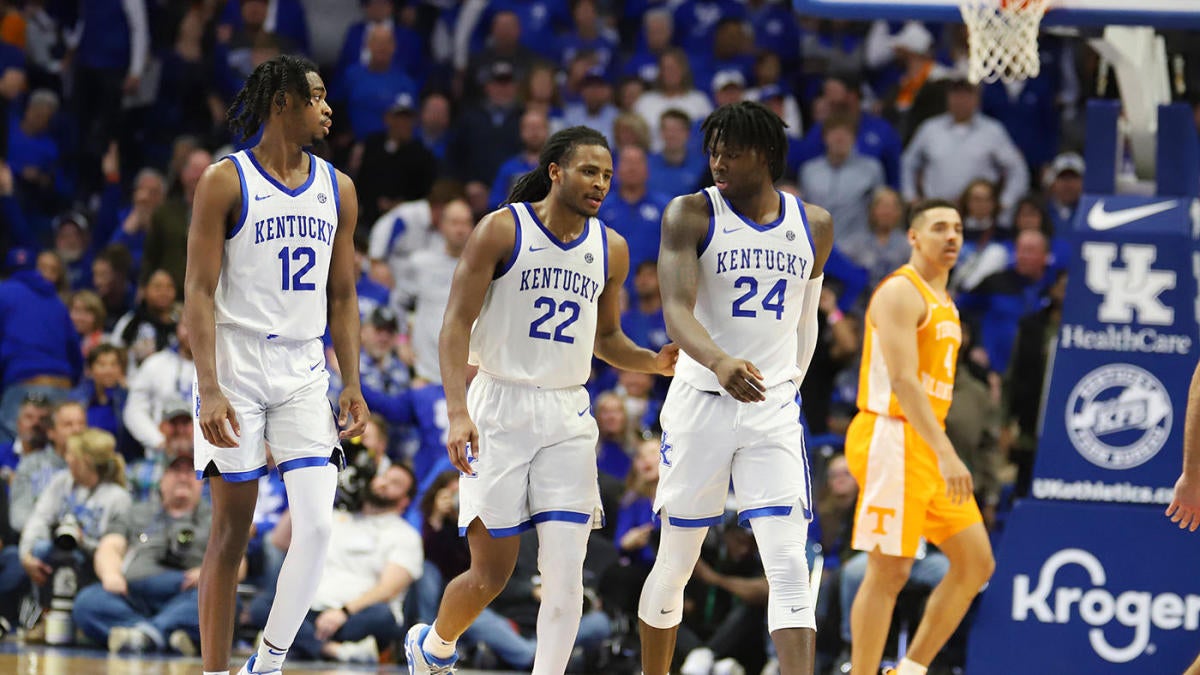 1 month ago
CBS Sports
Historically, the NCAA Selection Committee's in-season NCAA Tournament bracket preview is highly predictive of what the actual bracket will eventually look like on Selection Sunday; 30 of the 32 teams earning top-four seed inclusion the last two years have gone on to earn top-four seeds in the Big Dance. But in the aftermath of the annual reveal on Saturday, the knee-jerk reaction to the sneak peek feels a whole lot like it was a jinx. In what turned out to be a Saturday full of shakeups, three of the top 16 teams -- No. 2 seed Baylor and No. 3 seeds Iowa State and Tennessee -- took losses on the same day they were identified by the committee as top 16 teams in America. 
That doesn't include the scares several other teams who fall into that category faced. (Looking at you, Indiana and Virginia.)
The highest-rated seed falling on the day was Baylor, which as a projected No. 2 seed looked to have No. 1 seed Kansas on the ropes inside Allen Fieldhouse … before it didn't. Baylor led by 13 at halftime and built its advantage to as many as 17 before falling by 16 as Kansas turned in one of the most impressive second-half showings you'll see all season.
Of course, losing to Kansas on Kansas' court shouldn't bring shame; almost every Big 12 team that marches into Lawrence, Kansas, comes up short. But the way in which Baylor fumbled away a potentially monumental win is devastating, thus making the Bears the lead of this week's winners and losers column. You can take a stab at which category they fall into.
Loser: No. 9 Baylor blows big lead in Lawrence
If there was any doubt, let there officially be none: KU owns the Big 12's personal house of horrors for opposing teams. No. 5 Kansas overcame a 13-point halftime deficit and dominated No. 9 Baylor in the second half to win 87-71 after trailing by as many as 17 points. It's the third time this season in league play Kansas has trailed at half and went on to win, and the second time it has overcome a double-digit halftime deficit in Allen Fieldhouse only to march to victory. Baylor could do no wrong in the first half -- it made nine first-half 3s and held KU to one -- but could do no right in the second half in fumbling away what would have been a huge momentum-boosting win.
Winner: Kentucky bolsters resume with win over Vols
Kentucky's resume up to Saturday was pretty meh aside from its win over  No. 10 Tennessee in Knoxville in mid-January, but it bumped a bit past meh territory and potentially into a nice spot on the bubble with (another) win over the Vols. This one came inside Rupp Arena in more decisive fashion, as UK went wire-to-wire in a 66-54 victory. Kentucky was a 10 seed in Jerry Palm's bracket before the day and likely bought itself some cushion with a top-notch Quad 1 win over an AP-ranked top-10 team.
Winner: IU mounts big comeback behind Jackson-Davis
Without leading scorer Terrence Shannon Jr., Illinois grabbed a nine-point lead on the road midway through the second half and had No. 14 Indiana on the ropes inside Assembly Hall. That was right where the Hoosiers wanted the Illini, though, it seems, because IU flipped a switch from there and outscored Illini 32-20 en route to a 71-68 victory. Trayce Jackson-Davis, after a quiet 11 points in the first half, had 15 points in the second half -- 13 of which came in the final 12 minutes as Indiana made its run.
Winner: Mike Miles Jr. makes triumphant return
Here's a fun fact for ya that, in no way at all, is a coincidence: TCU hung 100 points on Oklahoma State and blasted the Cowboys by 25 points on Saturday -- the same day Mike Miles Jr. returned to the lineup after a lengthy absence with injury.
The win for the Horned Frogs stopped its three-game skid and was the first time in more than five years OSU allowed at least 100 points in a game.
"I want to make this clear: Today was about TCU being really good and making Oklahoma State look really bad," said OSU coach Mike Boynton.
Mission accomplished. TCU is a dangerous team with Miles at full strength. What it did to a red-hot OSU team should scare the Big 12 and the rest of college basketball. The slumping Pokes won't draw a high seed in the NCAA Tournament, but they have the talent and potential on any given night to play like a 2 or 3 seed with their inside-out balance.
Winner: Texas Tech's tourney hopes not dead
Don't look now, but Texas Tech may be playing its way onto the NCAA Tournament bubble. The Red Raiders won their third straight and fifth in their last seven with a 78-72 win at West Virginia. The Mountaineers led 63-55 with under nine minutes to play but failed to make a shot in the final 3:17 while seeing their own NCAA Tournament hopes take a hit.
Jalon Tyson surpassed his previous career-high by seven points while finishing with 27 to pace Texas Tech. The Red Raiders are just 15-12 (4-10 Big 12) but shouldn't be counted out after picking up their fourth Quad 1 win. Even teams with a losing record in Big 12 play will have a shot at ending up on the right side of the bubble, and TTU has clearly figured something out after an 0-8 start in conference action.
Winner: Southern Miss goes 15-0 at home
Southern Miss won a combined 24 games during coach Jay Ladner's first three years on the job. On Saturday, the Golden Eagles picked up their 24th win of his fourth season with a 73-62 win over Georgia Southern. The victory capped a perfect 15-0 run at home for Southern Miss, which enters the regular season's final week atop the Sun Belt standings. Ladner's tenure stood on shaky ground entering this season but he has proven to be the man for the job while leading this season's most remarkable turnaround.
Loser: Virginia continues to play with fire
Never apologize for a win, especially this time of year. But on a day when No. 7 Virginia won its fourth straight and 11th in its last 12 games, some concerning signs showed again for the Cavaliers, who landed as a No. 3 seed in the bracket preview. UVA squeaked out a 57-55 home win over Notre Dame when Dane Goodwin's potential game-winner missed at the buzzer. The Cavaliers shot just 37% from the floor on the heels of a narrow 61-58 win at lowly Louisville, which followed a fortunate (and probably undeserving) overtime win against Duke.
The Cavaliers may wind up winning the ACC, and their slow-paced, defense-first identity is such that close games are a common occurrence. But for a team with major March aspirations, a combined five-point margin of victory against league bottom-feeders like Louisville and Notre Dame suggests the Cavaliers are not operating at peak efficiency. Perhaps they just need a challenge, or perhaps they are tracking to be an upset victim on the NCAA Tournament's first weekend. Either way, it wasn't all bad for UVa as Kihei Clark set the program's all-time assists record during Saturday's action.
Continue reading...
Read On "CBS Sports"
More News On "CBS Sports"