Alicia Silverstone Has Sculpted Legs In A Miniskirt In BTS IG Pics
1 month ago
Women's Health
Alicia Silverstone appeared in a Super Bowl commercial wearing a miniskirt and top set that seemed right out of Clueless.The actress, 46, showed off her super sculpted legs in the miniskirt and super tall heels in some behind-the-scenes photos.When it comes to working out, Alicia loves to dance and do yoga.
The Super Bowl was packed with awesome ads, but one people can't stop buzzing about was Alicia Silverstone reprising her role as Cher Horowitz from Clueless to promote Rakuten.
The 46-year-old shared several behind-the-scenes photos of herself in her iconic Clueless outfits. There's Alicia showing off her seriously toned legs in a yellow tartan blazer and matching pleated miniskirt; Alicia shopping in a houndstooth miniskirt and black lacy blazer, accessorized with strong legs; and Alicia chilling in her closet in high-waisted jeans and an orange and pink sweater.
"It's giving Cher... literally. 😉 Happy Super Bowl Sunday!" she wrote in the caption. People just about lost their minds in the comments. "I'm like totally buggin!" one said. "Y'all might as well go on and do a Clueless 2. No one can do it better. We need the original cast. Y'all look absolutely amazing," another said.
Plenty of people pointed out that Alicia pretty much looks like she did when Clueless came out 28 years ago, and Alicia has made it clear she stays active and lives a healthy lifestyle. The actress recently told Bustle that she loves going to dance classes and doing yoga. "When I do it, I'm so happy," she said. "I also like going on walks—I walk my dogs almost every single day, that's just part of being a mama to a dog. It's good to move and be outside in the air."
Related Story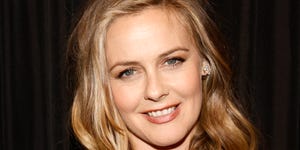 Alicia Silverstone Is So Toned In A Nude PETA Pic
Alicia is also just super outdoorsy. Her Instagram is packed with photos of herself going on adventures with her son, Bear.
There's Alicia and Bear kayaking around Alaska:
Alicia and Bear skiing:
And Alicia and Bear on a hike:
Alicia, who is a proud vegan, is all about fueling up on healthy foods, too. She told The New York Times that going vegan helped to clear up her acne, lose weight, and breathe better. "I always bring everything back to diet," she said. "When I don't eat well, I don't feel well, and then my moods go all over the place."
Some of her go-tos, per The Times, include meals packed with fresh herbs, greens, miso soup, and ginger tea. Alicia also told Bustle that she loves adding dates to smoothies for texture, adding that she "always" loves strawberries.
Related Story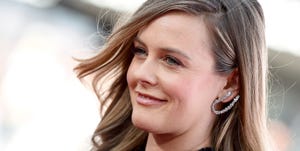 Spoiler: Alicia Silversone Loves Her Vegetables
Alicia noted that she's "quite a professional salad maker," explaining that she likes to drizzle lemon or an orange, olive oil, and flaxseed oil on her greens for a buttery flavor, along with umeboshi plum vinegar. "Sometimes it's nice to put some kimchi on the side, and I really love the combination of red onions and raisins," she said. "I also love cilantro, so lots of that."
Alicia regularly posts photos of her meals on Instagram and they look mouthwateringly good. Just a few examples:
Clueless 2, anyone?
Korin Miller
Korin Miller is a freelance writer specializing in general wellness, sexual health and relationships, and lifestyle trends, with work appearing in Men's Health, Women's Health, Self, Glamour, and more. She has a master's degree from American University, lives by the beach, and hopes to own a teacup pig and taco truck one day.

Continue reading...
Read On "Women's Health"
More News On "Women's Health"