ABC, NBC, CBS evening newscasts barely scrutinized Biden on inflation, study finds
1 month ago
Fox News
President Biden was given a pass during nearly 84% of ABC's "World News Tonight," "NBC Nightly News" and CBS' "Evening News" coverage of recent inflation and economic woes, according to the Media Research Center. 
MRC researcher Rich Noyes examined ABC, CBS and NBC evening news coverage of inflation from May 1, 2022 through January 31, 2023, including weekends. The period included alarming inflation numbers along with gasoline prices reaching unprecedented highs but little discussion of Biden or Democratic economic policies possibly contributing.
"All three evening newscasts spent considerable airtime documenting the distress of American consumers, with 'NBC Nightly News' devoting the most -- 233 minutes -- to the story during the nine months we examined. The 'CBS Evening News' was close behind, with 216 minutes of inflation coverage, while ABC's 'World News Tonight' lagged, spending 93 minutes on the subject," Noyes wrote. 
NBC, MSNBC JOURNALISTS WALK OFF JOB AMID LABOR DISPUTE, INSIST COMCAST-OWNED NETWORKS 'BREAKING THE LAW'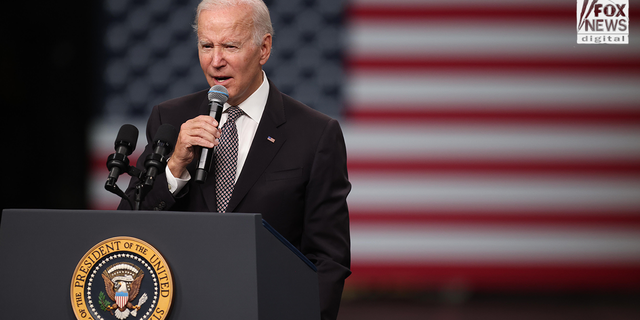 "Combined, that's a hefty 542 minutes of airtime, an average of about an hour every month since last spring. Virtually all of the networks' full-length reports included multiple interviews with consumers angry about the high prices, plus families on tight budgets who were being financially crippled," Noyes continued. "But the networks rarely connected the widespread misery to the President and his policies."  
Noyes found that out of 542 minutes documented, nearly 454 of the minutes spent covering the distress of American consumers omitted any reference to the Biden administration.
"So while there was a lot of coverage of consumers being harmed by inflation, there was far less scrutiny of the leaders responsible for it," he wrote. 
NBC NEWS INSIDER SAYS MIGUEL ALMAGUER 'F---ED UP' BY RUNNING PAUL PELOSI STORY CARELESSLY ON JUST ONE TIP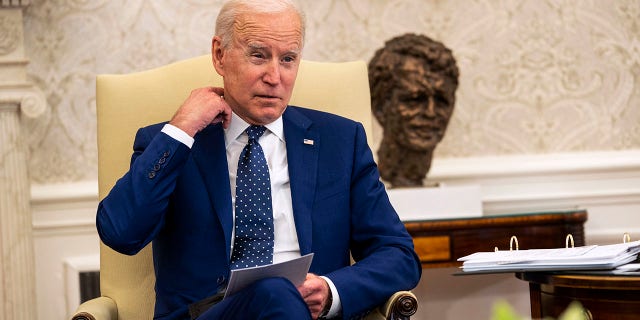 The MRC also found that of the 88 minutes ABC, NBC and CBS focused on Biden and his administration, 52 were dedicated to depicting Biden as working to solve the issues. 
"These 'solutions' include Biden's trip to Saudi Arabia in an attempt to boost oil production; his short-lived proposal for a national gas tax holiday; and the passage of the so-called 'Inflation Reduction Act' in August," Noyes wrote. "Thus, viewers heard reporters list the supposed inflation-fighting elements of the law." 
Noyes found that roughly eight minutes of the 542 minutes documented offered viewers criticism of Biden from Republicans.
ABC NEWS' 'SQUALID CULTURE OF SEX' CONTINUES TO HAUNT DISNEY AS 'HORNED UP' OFFICE MAKES HEADLINES
"There was almost as much airtime -- eight minutes, five seconds -- from non-partisan sources, including disgruntled voters, angry consumers, and the occasional challenging comment from a reporter. NBC's Kristen Welker on July 28 reminded viewers that the President 'declared a year ago that inflation would be temporary,'" Noyes wrote. "But add up all of the criticism, and it amounts to just 16 minutes, 15 seconds over nine months. That's not much out of 542 minutes of total coverage, and doesn't even begin to match the 52 minutes of coverage presenting Biden's as America's inflation-fighter-in-chief." 
Inflation and shortages of some food items have caused the price of grocery staples to surge in recent months. 
Overall food prices in America increased 10.4% year-on-year in December, according to data from the Bureau of Labor Statistics. The same data showed that overall inflation spiked 6.5% in December compared to the previous year. 
"Among experts, there's little doubt about Biden's role in fueling a significant amount of this high inflation, and the resulting hardship to tens of millions of American families. Yet the national news media gave the President a huge political favor by mostly keeping his name, and his blame, out of their coverage of America's epic inflation nightmare," Noyes wrote. 
Fox Business' Jon Michael Raasch contributed to this report.
CLICK TO GET THE FOX NEWS APP
Continue reading...
Read On "Fox News"
More News On "Fox News"